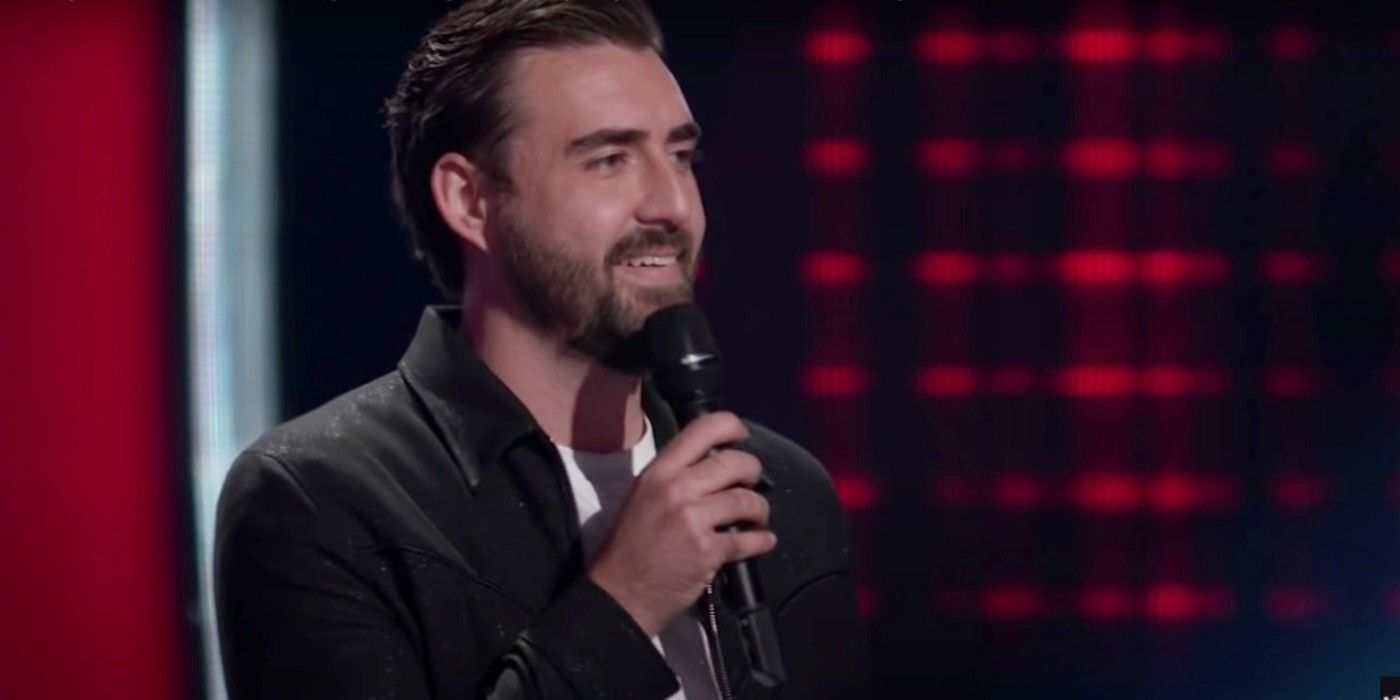 The Voice's John Legend rounded out his team with blind auditions stand-out James Pyle, who some fans are already calling season 19's winner. The Voice kicked off its new season, social distance style, with judges Kelly Clarkson, John Legend, Gwen Stefani, and longstanding Voice veteran Blake Shelton. While the show might be missing beloved judge Adam Levine, this season's line-up is already heating up the competition, and many of those standout contestants have found a spot on the team of fan-favorite judge John Legend. 
Among Legend's team are country artist Bailey Rae and opera singer John Holiday. The season is off to a competitive start, with judges whittling down to their final spots on the latest episode. While the final group of the blind auditions took to the stage, Legend quickly became the last judge to have an open spot on his team. Enter 30-year-old California Native James Pyle, who brought down the house and earned a quick turn around from Legend himself.
Related: The Voice: All About John Legend's Career & Marriage To Chrissy Teigen
The father of two wowed the judges and at-home audience with a unique rendition of Harry Styles' "Watermelon Sugar." Now residing in Ohio, James Pyle shared his journey to The Voice stage, opening up about his start in the music world as a drummer who later recognized another talent in his voice. While the standout musician was originally encouraged to pursue singing by his late mother, whom he tragically lost to cancer when he was 18, he revealed he only played a few gigs as a singer before making his debut in front of millions of viewers. The judges recognized the same talent, with Gwen Stefani calling him one of the best singers they heard all season and saying, "If I could have pushed my button, I would have pushed my button for you… If you're available to steal, I'll be stealing you."
Stefani wasn't the only judge who foreshadowed a possible steal of Pyle in the upcoming knockout rounds. Blake Shelton also threw his hat in the ring, making Pyle one of the more sought after contestants on the show. But for now, the soulful singer-songwriter has a home on team Legend, who was more than grateful to snag Pyle for the last spot on his team, saying, "It was a masterful performance. So thank you, 'The Voice' gods."
Fans will have to wait and see how James Pyle's journey unfolds on The Voice stage, but with a performance that already has fans talking and with the safety of the other judges waiting for the steal, it looks like Pyle's road to the live auditions is a bright one. For fans who can't wait to hear more from the Ohio native, Pyle has an original EP titled Attachments available for immediate download.
Next: The Voice: How Many Country Singers Have Won The Show
Source: The Voice