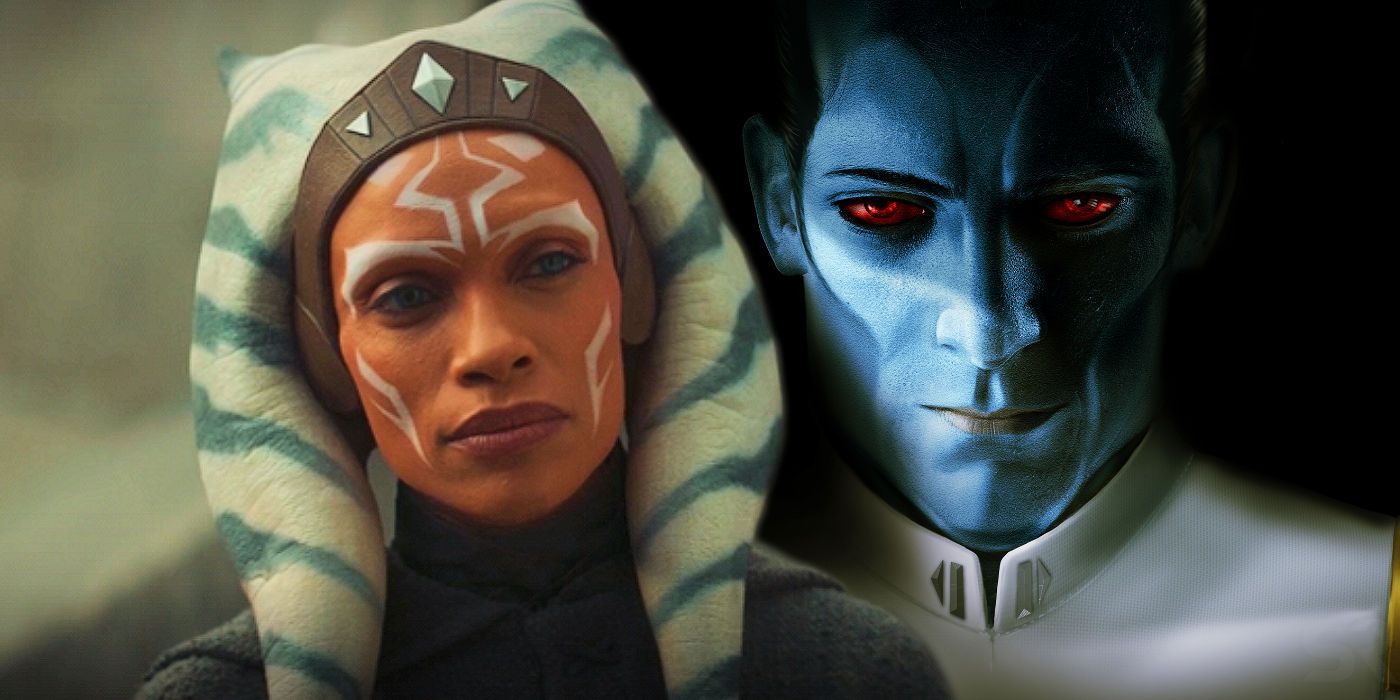 Warning! SPOILERS for The Mandalorian season 2, episode 5.
Ahsoka Tano makes her live-action debut in The Mandalorian season 2 and she's hunting down one of Star Wars' greatest villains – Grand Admiral Thrawn. But who is he and why is she searching for him? The Mandalorian season 2 has been full of surprising characters, with longtime fan-favorite Boba Fett returning and another Clone Wars character, Bo-Katan, also making her live-action debut. None are as exciting or anticipated as Ahsoka Tano, however, and the appearance of Anakin Skywalker's former Padawan in The Mandalorian season 2 brings with her big implications for the future.
Directed by Dave Filoni, the co-creator of Ahsoka along with George Lucas, The Mandalorian season 2, episode 5, "The Jedi" opens with Ahsoka on the planet of Corvus, exactly where Bo-Katan said she would be. She's attempting to free the town of Calodon from Magistrate Morgan Elsbeth's oppressive rule. When Din Djarin arrives, he's quickly dispatched by the magistrate to hunt this rogue Jedi, only to use it as his chance to bring the Child to Ahsoka as he's been tasked to do. The two inevitably team up to take down the magistrate, at which point it's revealed Ahsoka wants information from Elsbeth, asking her, "Where is your master? Where is Grand Admiral Thrawn?"
Related: Ahsoka Tano Explained: The Mandalorian's Former Jedi's Clone Wars History Explained
This stunning name-drop is a deep cut for Star Wars fans, with the villain originally appearing in Expanded Universe novels in the 1990s, beginning with Timothy Zahn's Heir to the Empire. A villain very unlike Palpatine or Vader, Thrawn is a blue-skinned, red-eyed alien from a species called the Chiss who rises higher in the Empire's ranks than any other non-human. He is a brilliant tactician with an immense appreciation for the art of other cultures, studying it to learn the best means of defeating his enemies. Disney's purchase of Lucasfilm relegated the EU stories to the Legends or non-canon corner of Star Wars media, but Thrawn was never entirely forgotten, and in Star Wars Rebels, he was reintroduced in the official canon.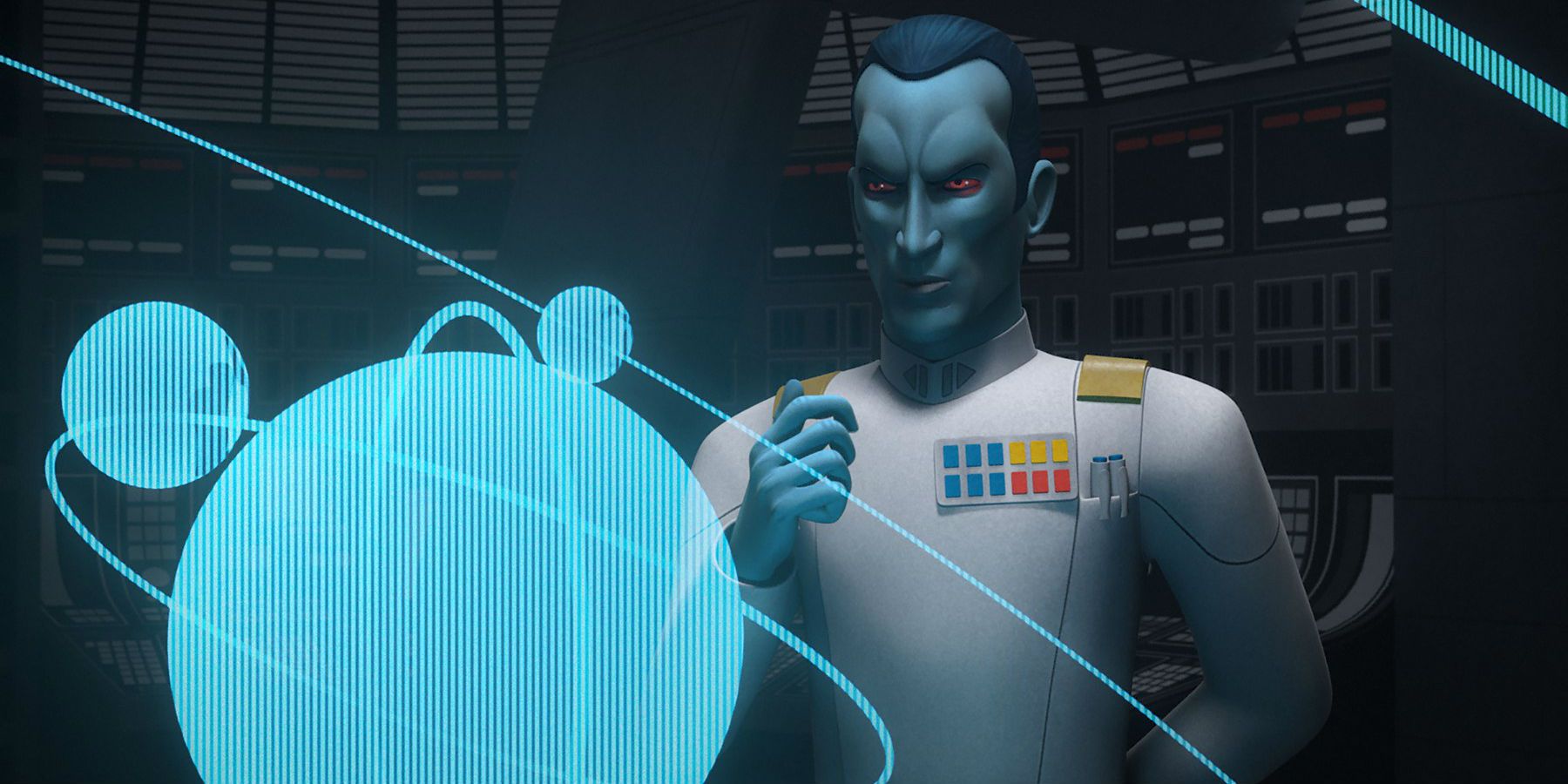 Grand Admiral Thrawn is reintroduced in Star Wars Rebels season 3 when he is given command of the Seventh Fleet and sent to destroy the rebel cell operating on the planet, Lothal. Throughout season 3 and season 4, the Ghost crew – the rebel group comprised of the Jedi Ezra Bridger and Kanan Jarrus, the Twi'lek Hera Syndulla, the Mandalorian Sabine Wren, and the Lasat Zeb Orrelios – endure several run-ins with Thrawn and suffer many defeats. They even lose one of their own, Kanan, when he sacrifices himself during their mission to rescue Hera from Thrawn.
The Lothal rebels fight to free the planet from the Empire isn't easy, but they are successful in doing so come the Rebels season 4 finale. In a last ditch effort to defeat Thrawn, Ezra summons a pod of purrgils (space whales capable of traveling through hyperspace) to envelope the Chimaera, Thrawn's ship. With both Thrawn and Ezra still aboard, the purrgils make the jump to hyperspace and take the Chimaera and the rest of the Seventh Fleet with them, heading toward destinations unknown. Neither Thrawn or Ezra have been seen since, with this mention of Thrawn in The Mandalorian season 2 being the first clue either of them survived.
Ahsoka first comes in contact with the Ghost crew while working for the Rebellion under the code name Fulcrum, and just prior to Ezra's disappearance, the two had briefly reconnected. However, following her duel with Darth Vader and subsequent rescue via the World Between Worlds by Ezra, Ahsoka's whereabouts are unknown. It's not until years later, after the Empire's defeat at the Battle of Endor, that Ahsoka reappears, meeting up with Sabine to go in search of Ezra.
Related: Who Saved Baby Yoda From Order 66? Why He Wasn't One Of Vader's Younglings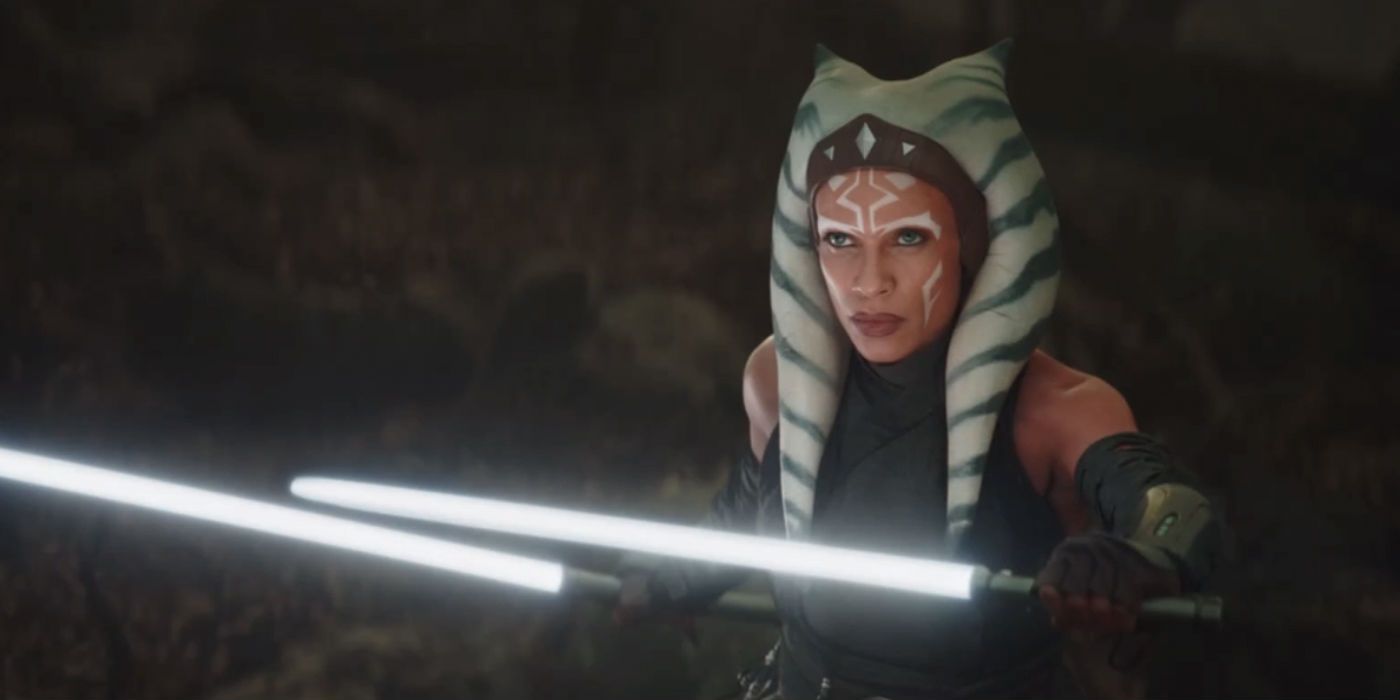 Ahsoka's appearance in The Mandalorian season 2 is the first time she's been seen since leaving in search of Ezra with Sabine at the end of Star Wars Rebels. It's been roughly four years since their mission began, and given that "The Jedi" finds her seeking out Thrawn instead, it seems they have not yet succeeded in locating their friend. In fact, it's likely Ahsoka only wants to find Thrawn because he is almost certain to have some knowledge of Ezra's whereabouts.
It's also curious that Sabine is not with Ahsoka, or even Bo-Katan for that matter, suggesting that her whereabouts may be another reason Ahsoka is desperate to locate Thrawn. If their search for Ezra led them to discover he's been captured by Thrawn, then it's possible that in this quest, Sabine has also been captured. Thrawn is, after all, one of the most formidable villains in Star Wars and his defeat last time only happened thanks to an insane plan involving space whales. Assuming Thrawn has managed to regain some power since his disappearance, he will be even harder to defeat a second time.
Ahsoka's search for Thrawn and ultimately, Ezra and maybe Sabine, too, could also be why she's recently crossed paths with Bo-Katan. The Mandalorian heiress is on a hunt of her own, searching for Moff Gideon so she can reclaim from him the Darksaber. Like Thrawn, Gideon is a lingering remnant of the Empire, using what remains of its power for his own ends. Or at least it appeared as if that's what he was doing, because the reveal that Thrawn is also operating in the galaxy – and clearly with some degree of control given he has a figure like the magistrate under his command – may hint at there being a chain of command, with Gideon answering to Thrawn.
Related: The Mandalorian Season 2, Episode 5 Cast & Cameos Guide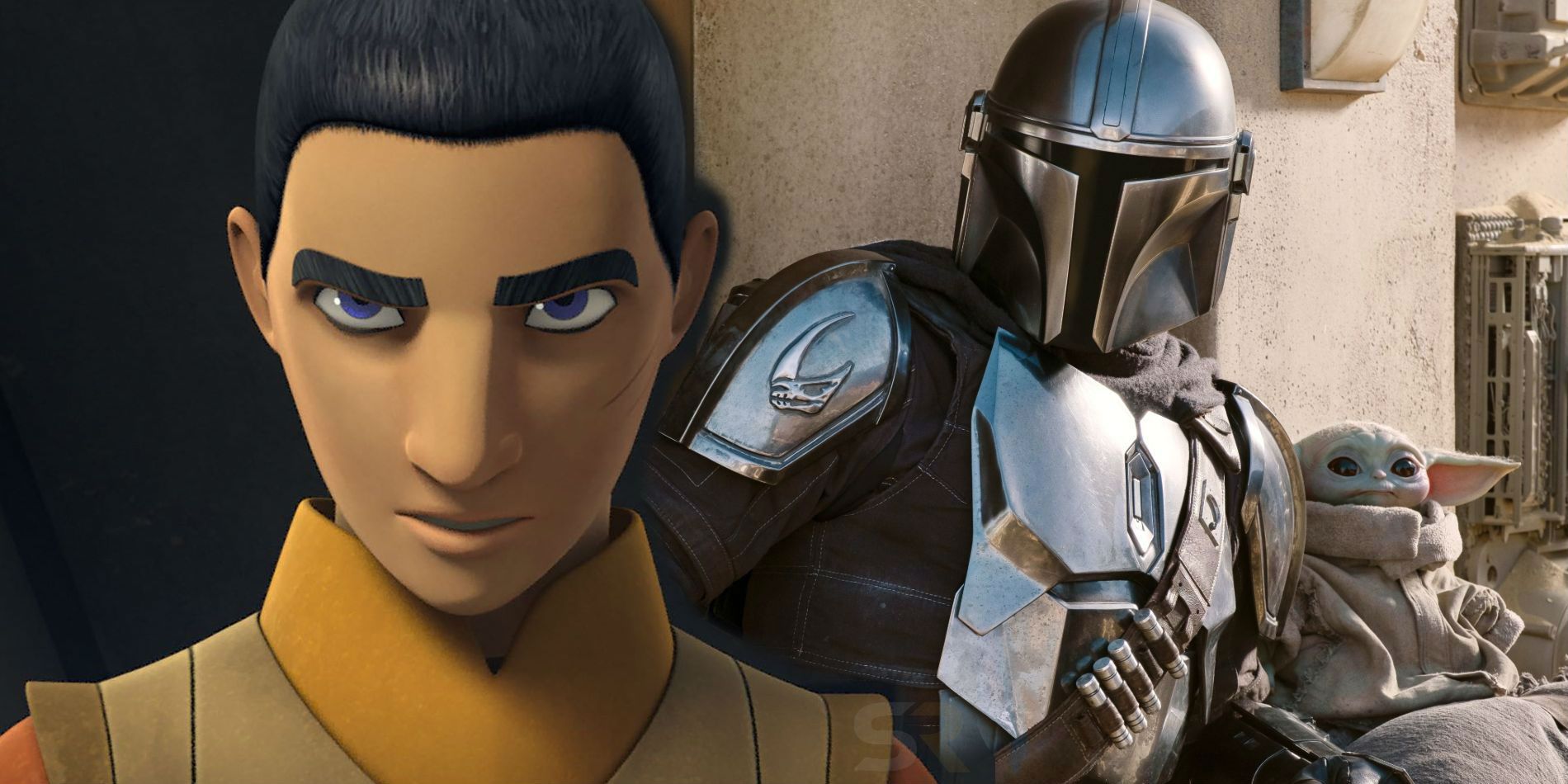 When it comes to The Mandalorian's story, Ahsoka searching for Grand Admiral Thrawn has some pretty big implications. For one, it implies there's a bigger threat than Moff Gideon out there. Already, the eventual rise of the First Order and the return of Emperor Palpatine hang over The Mandalorian because this future has been revealed in the Star Wars sequel trilogy. But the reveal of another former Imperial gathering strength in the galaxy who is arguably more dangerous than Gideon is a more present threat. And if the two are actually working together, then Din, Ahsoka, Bo-Katan, and all their allies are up against some very tough odds.
Along with Thrawn potentially being revealed as the major villain of The Mandalorian, with Moff Gideon as either an ally or rival, the confirmation that he survives the purrgil-induced hyperspace jump suggests Ezra does, too. And while it's possible he's found himself Thrawn's prisoner, Ezra may also simply be among the few remaining Jedi in hiding throughout the galaxy. This would likely mean Ahsoka hasn't a clue about Ezra's fate, but upon learning of Thrawn's survival, believes he could lead her in the right direction.
But Ezra being alive could impact The Mandalorian in even bigger ways. If he truly is one of the very few Jedi still alive in the galaxy, then it could be Ezra who will answer when Baby Yoda – aka The Child now officially known as Grogu – reaches out with the Force from the Jedi Temple on Tython. It's still unclear whether or not Grogu will be successful in finding a Jedi who will train him, but considering how few of them remain, options are limited. If Grogu is to be trained in the ways of the Force, then Ezra may just be the perfect teacher.
Ezra was also considered too old and too emotional to be trained before Kanan finally agreed to take him on as his Padawan. Not to mention, Kanan was an unorthodox master, another Jedi in hiding, and he didn't instill in Ezra the old Jedi mindset of needing to cut out all personal relationships. If there's any Jedi out there who might be willing to train Baby Yoda in spite of his strong bond with Mando, it's Ezra.
Next: The Mandalorian: Baby Yoda's REAL Name & Backstory Explained