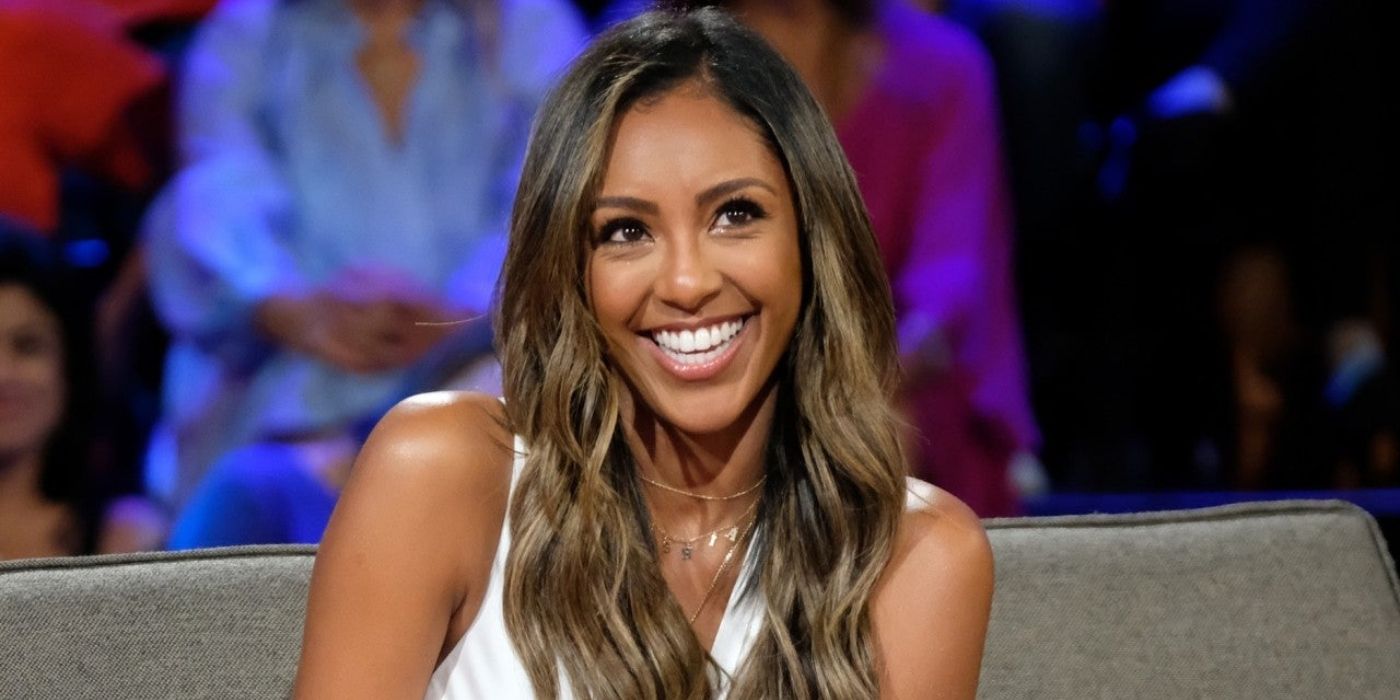 If Tayshia from The Bachelorette had any lingering worries about playing second fiddle to this season's original star Clare Crawley, those doubts disappeared at the 2020 American Music Awards, where Adams dazzled in a sexy outfit. Adams served up ultimate glamour vibes on Sunday, turning countless heads on the red carpet and the stage.
Adams was passed The Bachelorette torch by Crawley, who left the season after just two weeks to be with Dale Moss. Clare is now engaged to Dale. Upon meeting her suitors, Tayshia Adams, 30, was nervous. She wondered if some of the guys would have lasting feelings for Crawley. In fact, former NFL player Jason Foster validated those fears, cutting himself from the competition to mend his broken heart at home. Also, during the ongoing battle between Chasen Nick and Ed Waisbrot, it was revealed that Nick used identical phrases to profess his feelings to both ladies (the jury is still out on whether he called each woman a "smokeshow.")
Related: Bachelorette: Clare Crawley & Dale Moss Are House Hunting After Cheating Rumors
On Sunday, at the Microsoft Theater in Los Angeles, all eyes were on Tayshia Adams, who presented at the 2020 American Music Awards. Adams commanded the red carpet in a long-sleeved gold mini dress by Balmain. The dress was black, blue, and gold. She accented the frock with with a pair of strappy heels by Giuseppe Zanotti. She also sported brand new braids, which she deemed a "fun look" on Instagram, before the awards. Her glam makeup was done by celebrity makeup artist Emma Willis. Tayshia's AMAs look can be seen below.
The Bachelorette kept her social media followers updated throughout her big night, stating, "You guys, I am at the American Music Awards. I can't even stand it!" Adams excitedly presented Doja Cat with the award for Favorite Female Artist – Soul/R&B. Fellow members of Bachelor Nation, including Caelynn Miller Keyes, Bekah Martinez, and Kendall Long, showed appreciation for their friend's look with comments like "Stunning" and "Beautifullll."
While on the red carpet and stage, Adams exuded a sense of poise and confidence and looked beautiful. She showcased the traits that are quickly making multiple suitors fall hard and fast on The Bachelorette. Brendan Morais, a commercial roofer from Milford, Massachusetts (and a slew of other guys) informed Adams that she's more their "type" than 39-year-old Crawley. Though the majority seemed willing to vie for Crawley's heart, her strong persona was sometimes off-putting to the contestants. This was especially true when she reprimanded her dates for not jumping up at once to speak with her.
With each passing week of The Bachelorette, Tayshia is learning to let her guard down and trust the "process" of the reality series. She's also embracing fans' praise that she not only saved The Bachelorette season 16, but 2020 as a whole, by spreading positive energy.
Next: Bachelorette: Tayshia Adams Says A Lakers Player Slid Into Her DMs
Source: Entertainment Tonight, Tayshia Adams/Instagram