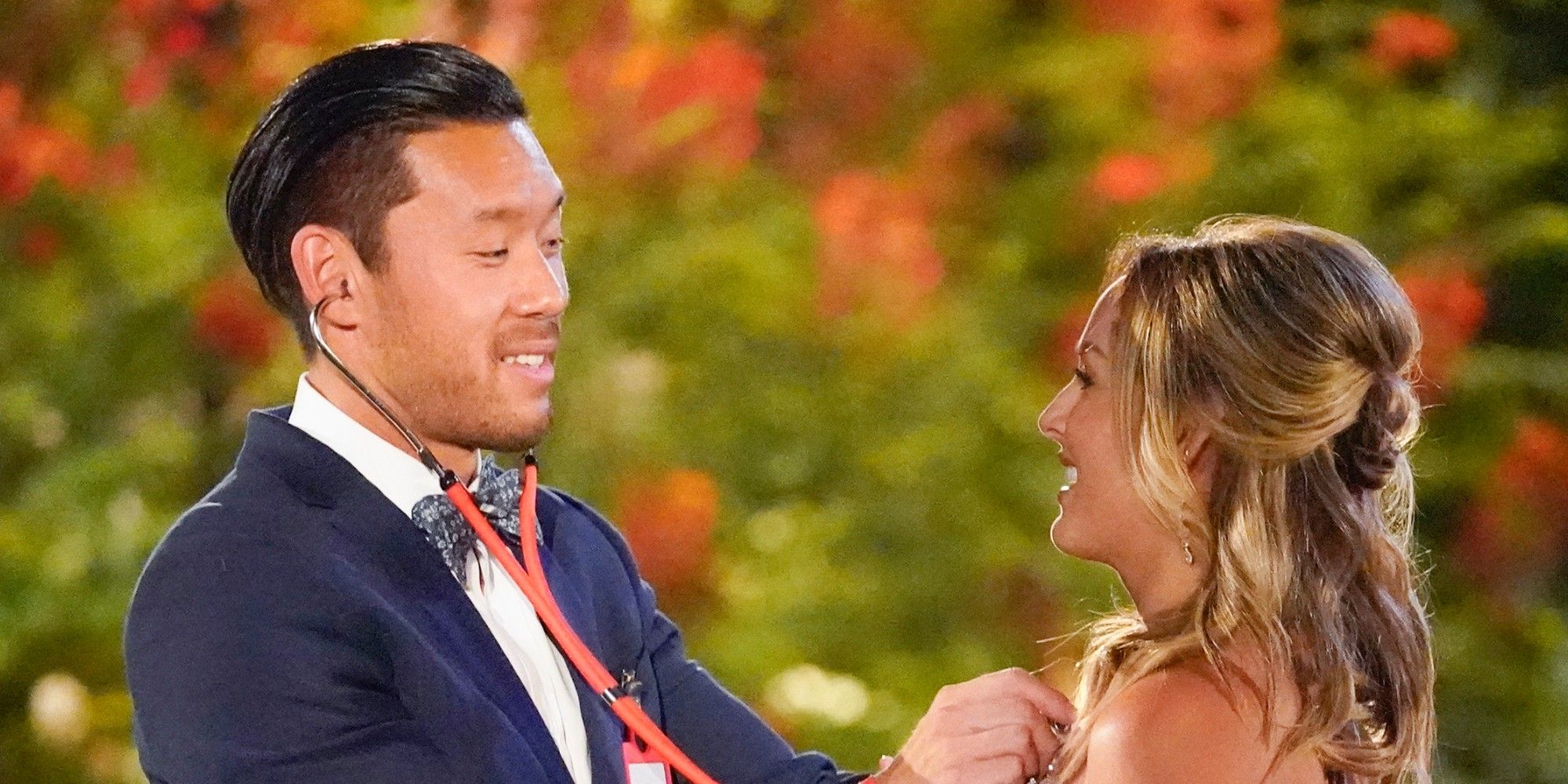 Along with many of The Bachelorette viewers, Chris Harrison's girlfriend, Lauren Zima, is crushing on contestant Joe Park. The video producer made a hilarious yet quite fitting Instagram video, in which she admits she is over the Harvard graduate Bennett Jordan. She is now obsessing over Joe.
While the previous Bachelorette Clare Crawley found her soulmate in Dale Moss and now the new lead Tayshia Adams is falling for Brendan Morais and Zac Clark, many fans have their eyes on Joe. On Joe's first meet with the 39-year-old hairstylist, he brought her a set of origami, "Joe the fox." But after that, he went unnoticed in some of the episodes. Plus, the production and editing team chopped his hilarious jokes and hardly showed him during the comedy roast-theme group date. Fortunately, he got more screen time after the 30-year-old Tayshia arrived. Especially during the wrestling-themed group date, he flaunted his self-deprecating sense of humor and admitted that he is terrified to fight against ex-NFL player Eazy Nwachukwu. Although he lost the match, he was successful in charming the fans by saying that sucks to lose, but he's a lover not a fighter.
Related: The Bachelorette: Fans Think Spencer Robertson Is Paul Walker's Twin
Chris's girlfriend cum Entertainment Tonight host and producer Lauren is fascinated by the 36-year-old doctor. Lauren's job involves her to cover the latest updates and breaking news about the ABC reality TV show. She was previously rooting for Bennett to be the lead of The Bachelor 2022, but she is now charmed by the anesthesiologist. The 33-year-old host recently took to Instagram and made a funny video, in which she covered all the great qualities Joe has. She captioned the video as, "He's 36, sweet, fit, funny, and declared himself a "lover not a fighter." I haven't even started on the great hair and cute ponytail." Check out the hilarious video below:
Most of her 173K IG followers agreed and commented that he's the "long term husband material," and "He's been funny and wholesome!" Others noted that Joe is indeed a catch because he is an anesthesiologist, and that profession pays really well. Lauren's boyfriend and The Bachelor host, Chris, commented, "I better get home soon." Check out the tweet by a fan below:
Many The Bachelorette viewers are so charmed by Joe's bright smile and pleasant personality that they are strongly campaigning for him to be the lead of The Bachelor 2022. It's true that the fans were previously obsessed with Bennett, but after watching more of Joe's personality, they want him to find the love of his life on the show. 
Next: Bachelorette: Clare Crawley & Dale Moss Are House Hunting After Cheating Rumors
The Bachelorette airs Tuesdays at 8pm EST on ABC.
Source: @wheezy_dobby, Lauren Zima/Instagram