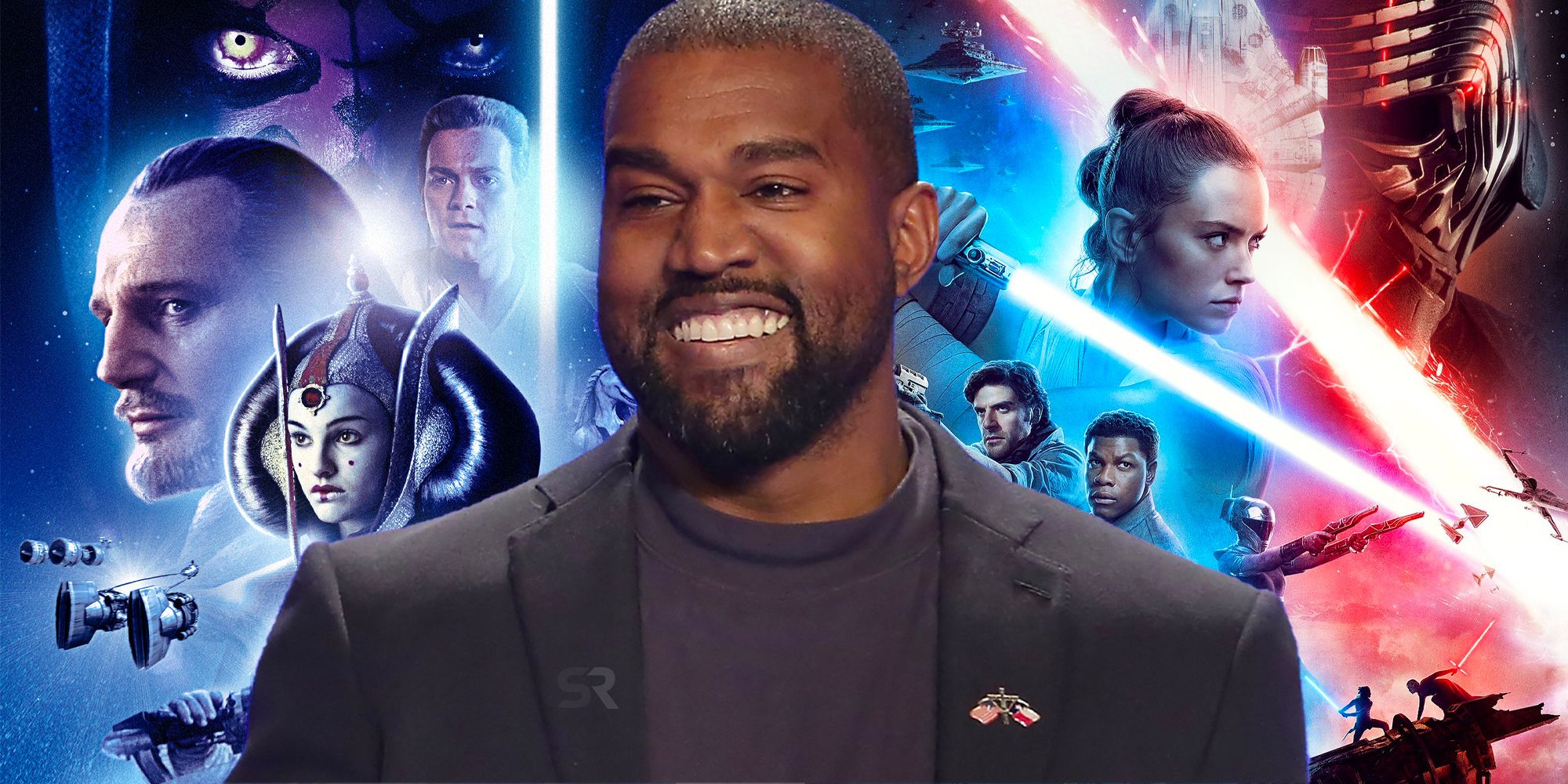 Rapper, fashion designer, and US Presidential Election candidate Kanye West recently made a passionate speech about why he believes George Lucas' Star Wars prequels are better than Disney's sequels. The Star Wars prequel films were released in the late '90s and early 2000s, receiving mixed reviews from fans and critics alike. Similarly, Disney's sequel trilogy, which came out between 2015-2019, has sparked many debates amongst the Star Wars fanbase. Both trilogies were created to offer contemporary stories for Star Wars fans, and while they revived the franchise and brought in new demographics of viewers, there's been a lot of controversies and backlash targeted towards the Star Wars prequels and sequels. 
Most recently, members of the Star Wars cast themselves spoke up about the misgivings of the sequel trilogy. John Boyega, who played the character of Finn, admitted that he wasn't thrilled with the way Disney and Lucasfilm handled Finn's arc and criticized their poor exposition of characters of color. The cast and many of their fans were upset at Disney for introducing characters without giving them a proper storyline and instead creating confusing twists like Rey's link to Emperor Palpatine in Star Wars: The Rise of Skywalker. While a large number of viewers dislike the Star Wars prequel trilogy, it seems that negative receptions of the sequels are also now increasing.
Related: Star Wars: How Balance in the Force Hurt The Sequel Trilogy Story
Kanye West, who is known to integrate pop culture into real life and politics, is the latest celebrity to share his thoughts on the Star Wars prequels and sequels. In an interview with The Joe Rogan Experience (via Complex Ambition), West made a passionate speech about how the prequels were set in George Lucas's heart and criticized Disney's creative process. West's full quote, as well as a video from his appearance on The Joe Rogan Experience, can be seen below:
"And this is about to make me mad, right here, the first time you've seen me get mad in an interview. They said that George Lucas' prequels are worse than the corporate-made Disney Star Wars. Revenge of the Sith? We saw how Darth Vader was made! I watched that like 10 times during COVID. 'Don't jump Anakin, I've got the high ground!'…. I'm saying even the prequels are better than anything… and I'm sorry Disney/Star Wars design team. No man, this is George. This is his baby. That thing was set in his heart to show us as children the hero's journey."
It's surprising to see how emotional and intense West got about the Star Wars movies, but there are a lot of fans who share West's sentiment. On Twitter, viewers replied to Kanye with petitions to "Make George's Sequels." Kanye is known to bring attention to many controversial topics. Even though West thinks the Star Wars prequels are underappreciated, it's unlikely that West's beliefs will affect Disney's decisions on the future of the franchise.
Neither the Star Wars prequels or sequels are perfect, but they do both feed into one thing that almost all Star Wars fans share: nostalgia. That's why Kanye and many other viewers find themselves rewatching the movies during the COVID-19 lockdown; Star Wars reminds them of a simpler time and gives them a sense of wonder they had as kids. There is value in both Lucas' prequels and Disney's sequels, but no new Star Wars film will likely ever be able to live to the cultural significance that the original trilogy had. With many new Star Wars movies slated for the future, there might come a day when Kanye West and other audiences long for the complexity and drama of Disney's sequel trilogy, too.
More: When Did The Star Wars Prequels Become Cool?
Source: The Joe Rogan Experience (via Complex Ambition)