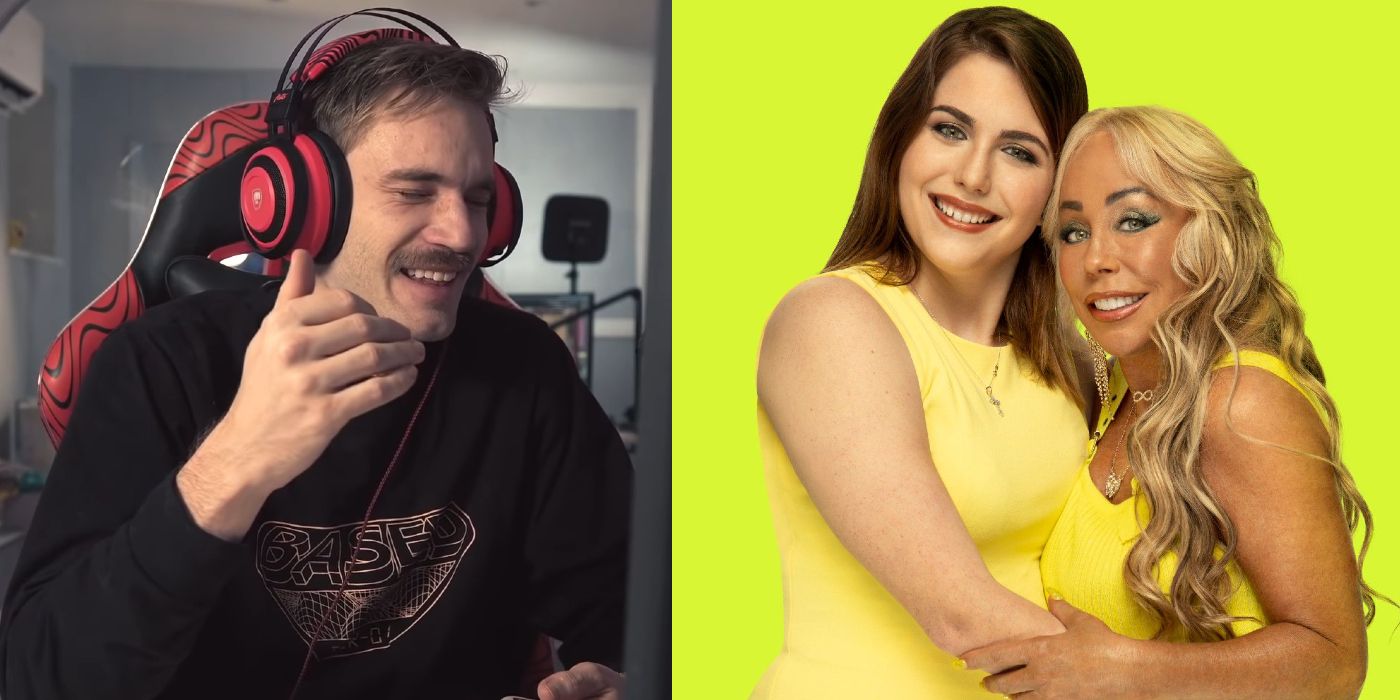 In his latest video, PewDiePie came across the infamous sMothered duo Mary and Brittani and mocked them. After watching the mother-daughter pair start their morning by showering together, PewDiePie fans are shocked. TLC's sMothered proves that a mother's love knows no boundaries, literally, and when reality TV lover and YouTuber PewDiePie discovers such stellar content, one can expect the best reactions to follow.
Since its launch in 2019, TLC's sMothered has offered "a fresh twist" in reality TV, by showcasing the true meaning of the popular phrase, "Like Mother, Like Daughter." If fans thought they'd met the most outrageous people of all time on 90 Day Fiancé, sMothered took the oddity up a notch with the "extremely close" mom-daughter duos. sMothered season 1 had four pairs bonding over boob jobs, sharing bathwater, and crashing each other's dates. Then, along came sMothered season 2, with Mary, 55, and Brittani, 19, who scandalously share showers. Apparently known to bathe with her mom since she was five, Brittani is so close to Mary that they also get colon cleanses together to lose weight. Mary inserting a nozzle up her daughter's behind on national TV may be classified as weird. Now, PewDiePie is reviewing the sMothered pair and making their relationship look even more cringeworthy.
Related: TLC's sMothered: 10 Cringiest Mother/Daughter Reveals
Continuing his series of TLC reaction videos, PewDiePie starts off by telling his 108 million subscribers how he's discovered "the most uncomfortable show of all time." The video first has PewDiePie showing disgust at Mary and Brittani sharing the same coffee cup. He later screams when he sees the camera following them into the bathroom as they get naked. "Is it weird or has society made it weird?" asks the Internet icon. However, he also admits that he, "can't even joke about it as it's so weird!" As the sMothered cameras film Mary slathering soap on Brittani's nude back, PewDiePie is seen shouting, "stop this madness!" See the video below:
Brittani is seen as being reluctant to move out of Mary's house after graduation. She says that "24 hours is not long enough" to spend with her mom. Then, there is Frank, who Mary met at church and "married." He has issues with Brittani. PewDiePie is saddened to learn that third-wheeling Frank is taking Brittani's "best friend" Mary away from her. A comment on one of the TLC videos that PewDiePie is watching reads, "I'm surprised she doesn't breastfeed her still," and he bets that, "those episodes are there." Brittani then reveals that Frank has no right to tell her to move out as he and Mary are "not legally married on paper." PewDiePie points out that the video just showed wedding ceremony pictures.
By the end of his Brittani-Mary review, PewDiePie arrives at the conclusion that the daughter is "clearly psychologically impaired" and that the mom appears to be taking care of her, which has affected their relationship. While the YouTube star adds that he doesn't want to "judge fully," his comments have viewers joking. Comments included, "This wasn't a good episode to watch while eating…" and "I feel dirty after watching this." Meanwhile, on sMothered, when Brittani came out as bisexual, Mary's volatile response was "prove it." Nonetheless, the show ended on a positive note, with the mother-daughter bonding over tummy tucks and eye surgeries. Even though PewDiePie uses the word "weird" to describe their bond, as their social media suggests, the sMothered pair continues to shower (and stay) together.
Next: 90 Day Fiancé: Fans Discover Rose Vega's Makeover Secret, Softmaxxing
Source: PewDiePie/YouTube