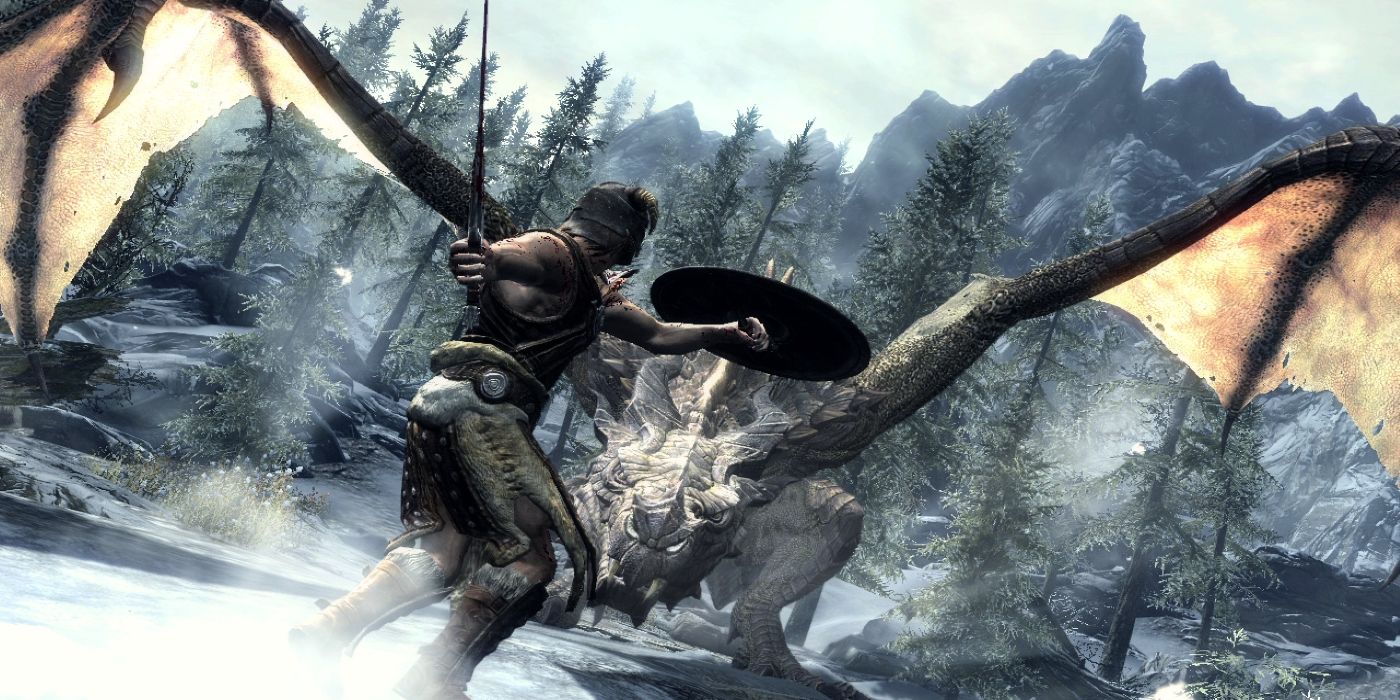 Players can now download a mod for The Elder Scrolls V: Skyrim on the Xbox Series X that lets the game run at a higher frame rate of 60fps. Bethesda's role-playing game has remained one of the most popular titles on platforms such as Steam despite the fact that it launched way back in 2011. The game has been ported to practically every console available along with a few more experimental pieces of hardware, including a pregnancy test and a tiny OLED keyboard screen.
Part of the reason for the continued success of Skyrim is down to the fact that the game has such an active mod community. Creators have published all manner of different mods, switching up various elements of the title such as the gameplay and presentation. Recently, one of the game's most high-profile mods introduced the Fall Guys characters into Skyrim as followers that players can recruit. However, other add-ons have done everything from improving the visuals to adding completely new quests to the core story (and replacing dragons with Thomas the Tank Engine, of course).
Related: Elder Scrolls V: Skyrim Best Graphic Mods For 2020
A new mod has emerged for Skyrim that allows players to run the game at 60fps on Xbox Series X. Users can download the mod directly from the Bethesda website, with creator smudgey5000 explaining that the mod unlocks the frame rate so that it is no longer limited to just 30fps as is the case with the standard console edition of the game. According to Reddit user annathetravelbanana, who posted step-by-step instructions to using the mod, the Uncap FPS Mod lets the game run consistently at the higher frame rate with no stuttering or dropped frames.
Bethesda recently hit the headlines after Microsoft purchased its parent company, ZeniMax Media. This means that Xbox now controls huge gaming properties like The Elder Scrolls, Fallout, and DOOM. The acquisition was first announced in September, with Microsoft confirming the deal was worth $7.5 billion. However, the move has led to some fears that future games from Bethesda, like Elder Scrolls 6 and Starfield, could become Xbox exclusives in the future.
Skyrim has always been well known for its vast library of mods that are available on both PC and consoles. Many of them are even focused in fixing issues with the game, which has become famous for having a wide array of technical problems. This update should allow Xbox Series X players to experience Skyrim in a way that has not been possible on home consoles before, which should keep players somewhat happy until Bethesda inevitably launches an obligatory new edition of the game for the new consoles.
Next: 10 Things To Do In Skyrim Most Players Never Discover
Source: annathetravelbanana, smudgey5000