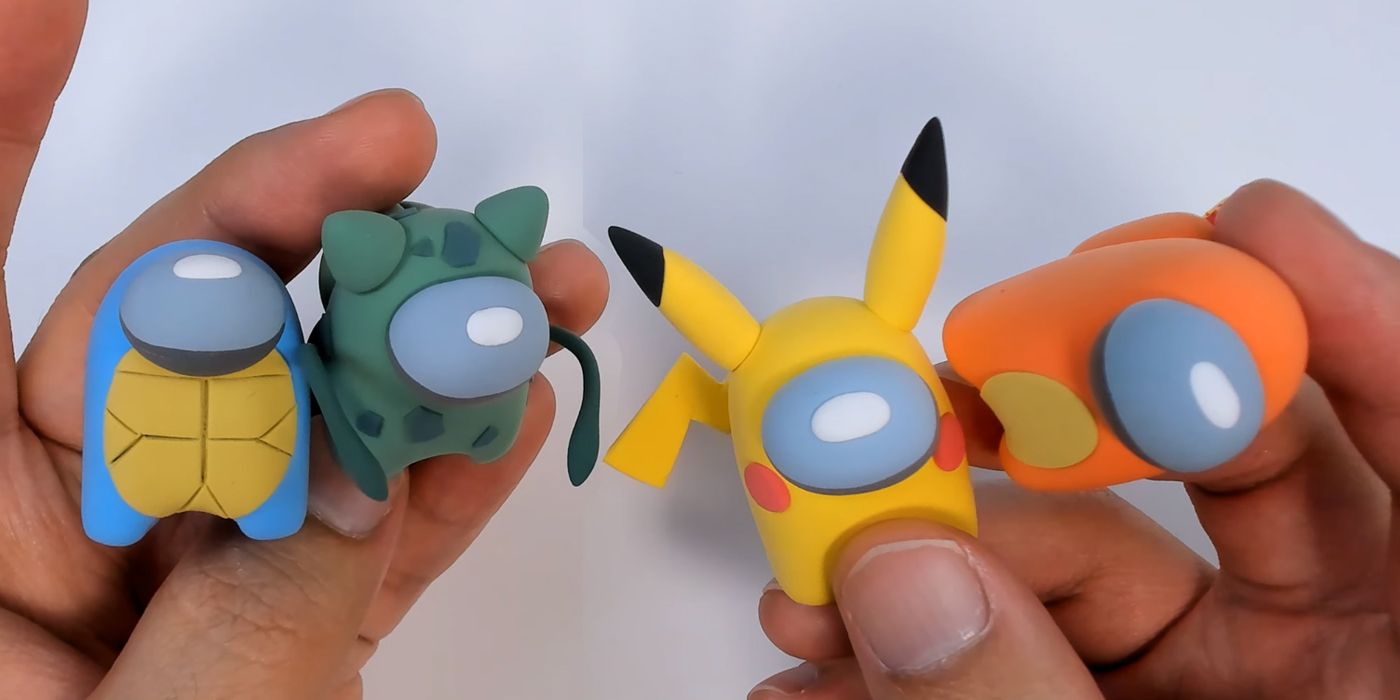 One crafty Among Us fan has made clay figurines of the original Gen 1 Pokémon starters (and Pikachu) as if they were crewmates, and these Pokémon Impostors are to die for. Among Us has inspired a number of impressive pieces of fan-art, and this delightful Pokémon crossover is no exception. However, the Gen 1 starter Pokémon have never looked more sus.
This isn't the first time Among Us fans have merged the cutesy design of the crewmates with the equally adorable Pokémon. This trend started with BossLogic's reimagining of Pokémon's most useless creature, Magikarp, as a crewmate. Since then, others have recreated Pokémon in Among Us' traditional art style making fans of both franchises desperate for them to become a reality. While it's unlikely that Pokémon and Among Us would ever produce a legitimate crossover, players can make their own Pokémon crewmates to proudly display on their mantles thanks to a well-made tutorial.
Related: Among Us Single-Player Game: How To Play By Yourself
Reddit user Tapclay posted an image of four adorable clay figurines to r/AmongUs, and the crossover tributes were instantly well received. The Pokémon represented are Bulbasaur, Squirtle, Charmander, and Pikachu. These tiny figurines are small enough to fit in the palm of Tapclay's hand, perfectly formed to resemble both the shape of Among Us crewmates and the biggest identifiers of the iconic pocket monsters. Luckily, for those who want to make their own to display (or, for the deranged, squash), Tapclay has also uploaded a detailed tutorial to YouTube, walking viewers through the process of creating their own Pokémon crewmates.
Staying true to InnerSloth's original crewmate design, each Pokémon is simple yet easily identifiable. While there is no doubt that skill is required to recreate these cute figurines as Tapclay has, the tutorial is easy enough to follow to theoretically allow anyone to make their own Poké Impostor. Whatever the maker chooses to do with them next is entirely up to them, but they should definitely watch their back while completing this DIY task.
As cute as they are to look at, these figurines are slightly unsettling. Pokémon are usually very expressive creatures who use their faces to effectively portray their emotions. Looking into the blank expressionless visors of Pokémon-themed crewmates makes each one appear slightly sus and a little uncanny. By Among Us' logic, one of the four Pokémon crewmates is an Impostor, but it's hard to discern which one would be the most likely to murder all of its fellow 'Mons.
Next: How Among Us Fans Are Playing On Mac
Source: Tapclay, Tapclay/YouTube