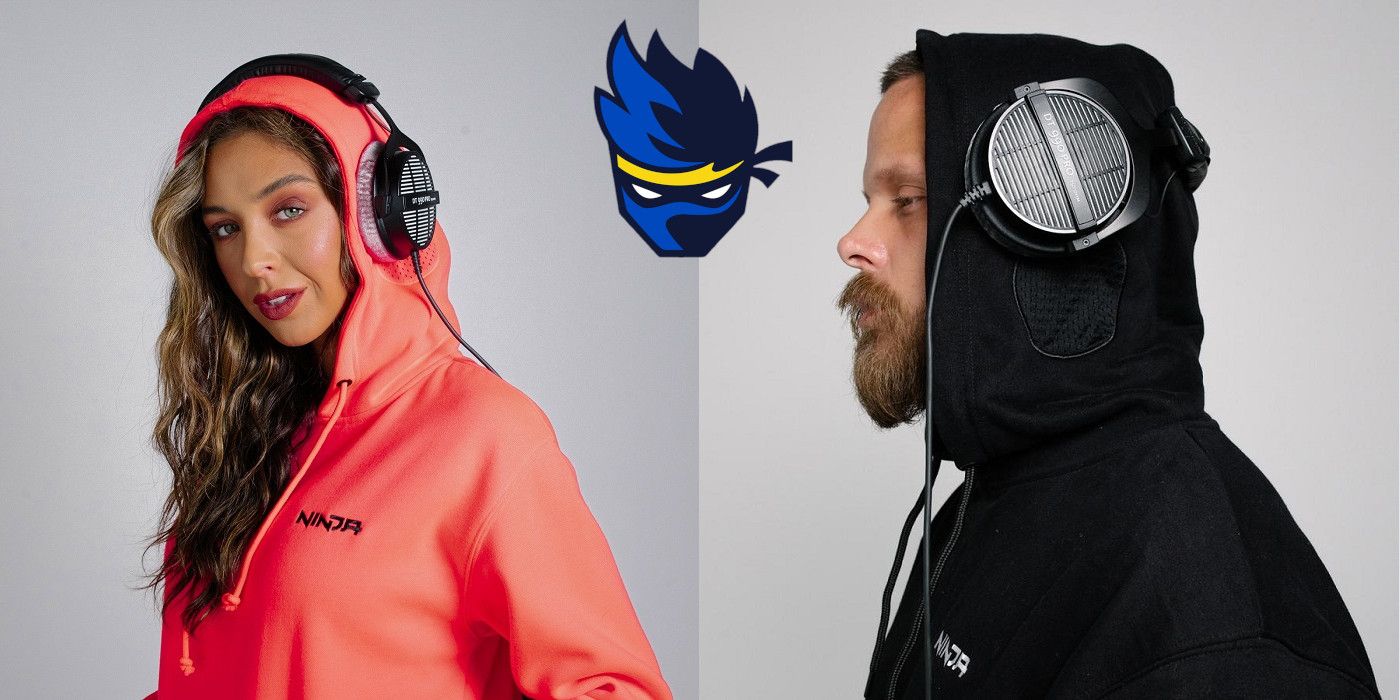 Professional Fortnite streamer and hero to the children of the world Ninja has released a line of gamer hoodies that let wearers use headphones and hoods at the same time. While many could already accomplish this by wearing headphones inside of the hood or by using a wide collection of wireless earbuds, Ninja's specific patent-pending design allows audiophiles to place the ear cans over their hood. The battle royale professional specifically shared that he loved this configuration while travelling or gaming and that the design of this hood will allow that configuration without "changing" the quality of the sound.
The hoodies, which are specifically branded as "gamer" clothing, follow in a long line of merchandise aimed at the video game enthusiast. Those who are so inclined are able to purchase sunglasses that reportedly improve aim in shooter games, all forms of energizing drinks and powders to keep gamers awake during late-night sessions, and computer mice with a dozen programmable buttons. That doesn't even mention the wave of plastic controller shells for motion games, alternate gamepads that range from a chainsaw to a katana that lets players slash along with certain games, or the omnidirectional treadmills that can make VR games all the more real.
Related: Ninja & Stranger Things Star Are Streaming Dead by Daylight on Halloween
Now on sale on Ninja's official store website (which shares a name with the studio that makes Dead or Alive somehow), gamers can grab this useful (?) piece of clothing for $60. It comes in Graphite, Midnight, and Electric Red – all colors that sound like they could double as flavors of the Nintendo DS. Already sold out is the Light Pink hoodie, a sign that Ninja's fanbase is fashion-forward when it comes to color selection. Other items up for sale on the shop include $38 cherry blossom sweatpants, a $28 non-headphone compatible hoodie, and a shirt that bears hundreds of tiny Ninja logos for only $23.
Surprisingly, Ninja is not the first fashion pioneer to venture into the world of combining giant headphones and hooded clothing. Sports brand Champion produced a line of gamer-friendly gear earlier this year, and that included a gamer hoodie that is also patented. Instead of letting gamers wear headphones outside the hood, Champion's innovation is to just make a bigger hood so even the bulkiest headset can fit comfortably inside. Realistically, gamers probably can't pull out the Konami LaserScope and shoot down ducks in Duck Hunt with profanity while rocking either this or Ninja's hoodie, but most headsets and audio devices will fit the bill.
With multiple clothing brands racing to patent all variations and combinations of a hoodie and headphones, perhaps Ninja's concept actually makes sense. Sure, it's rare to see anyone out in the real world or on Twitch combining bulky sweatshirts with giant electronics, and the idea of wearing that much fabric in long gaming sessions indoors seems like a nightmare, but it's not possible that this product is just filling a need that doesn't exist. The gaming community puts too much faith in the integrity of Tyler Blevins and his fellow video game streamers to accept such a shallow corporate outcome.
Next: Fortnite Music Video Celebrates 7 Years Of Ninja's Streaming Career
Source: TeamNinja.com