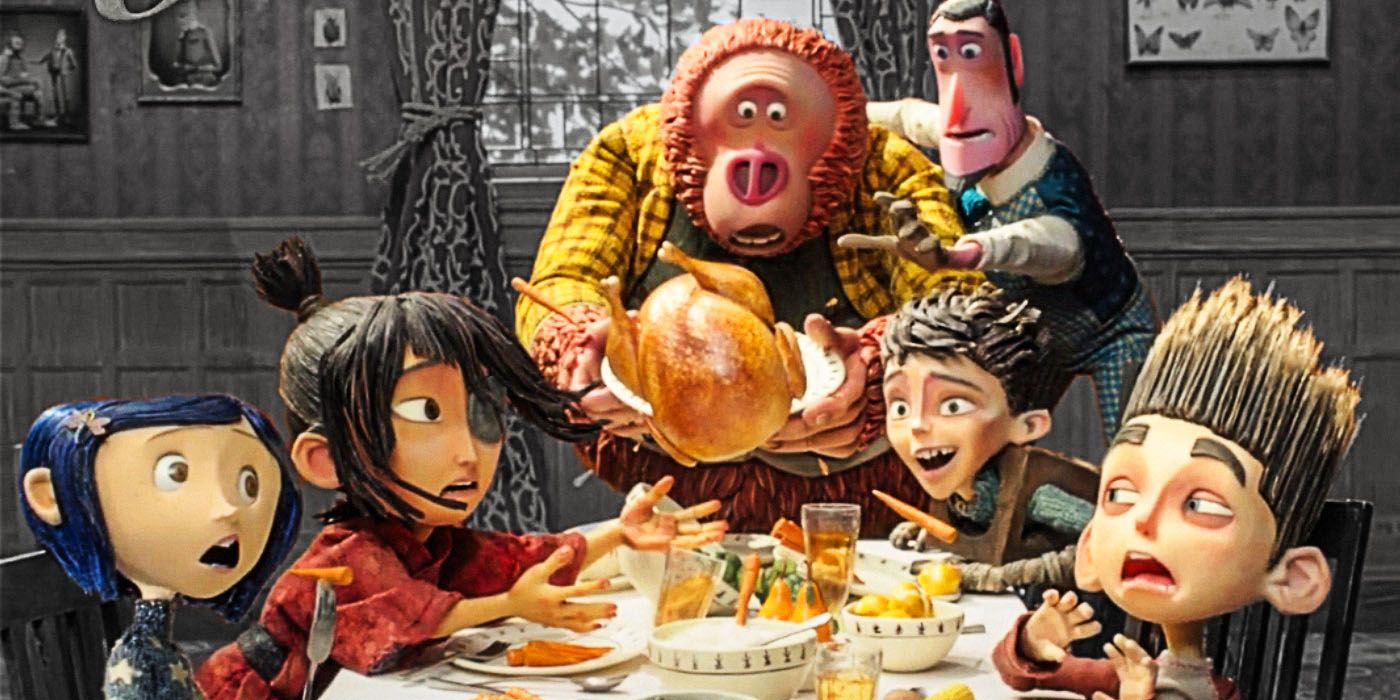 The characters of LAIKA movies are gathering together for a family Thanksgiving video made by the acclaimed stop-motion animation studio. Founded in 2005, LAIKA has so far produced five animated feature films, all of which have been nominated for a Best Animated Feature award at the Oscars: Coraline, ParaNorman, The Boxtrolls, Kubo and the Two Strings, and last year's Sasquatch adventure Missing Link.
While major animation studios like Pixar and DreamWorks Animation work almost exclusively in computer animation, companies like LAIKA and Aardman Animations are keeping the painstaking technique of stop-motion animation alive. The animation style involves building physical sets and character models and taking still photos of them, moving them incrementally to create the illusion of movement – one frame at a time. A full day of stop-motion animation produces just seconds of footage, so making a feature film is a process that takes years.
Related: LAIKA Animators Win The Fight Challenge With Incredible Stop-Motion Video
There are certainly easier ways to make a movie, but the unique beauty of LAIKA's films is proof of how the hard work pays off. And to celebrate the holiday season, Collider shared an exclusive video created by LAIKA that shows Coraline, Kubo, Mr. Susan Link and Sir Lionel Frost from Missing Link, Eggs from The Boxtrolls and Norman from ParaNorman at a "Friendsgiving" dinner that has a slight mishap.
The 29-second short took 10 weeks to make from the concept to the end of production, and was particularly challenging to make because of the extra complications of working amid the coronavirus pandemic. Most of the team worked remotely, while the on-set crew wore masks and practiced social distancing. The short was spearheaded by LAIKA's head of animation, Brad Schiff, who said that the studio has "played around with a few of them cross-mingling" in previous projects, but that "this is the first time we've ever had all five interacting with one another." The simple scenario was an opportunity to play around with all of the characters' unique personalities and reactions.
LAIKA is, in the words of Missing Link director Travis Knight, "effectively a band of anal-retentive mole people who are working at a jerkwater town 950 miles away from Hollywood, specializing in an art form that was declared dead a generation ago." The Oregon-based animation studio has yet to secure a major box office hit, but its films have consistently received critical acclaim and awards recognition. The details of LAIKA's next feature film remain under wraps, but last year production designer Nelson Lowry told Collider, "the next film is so different, fundamentally different, from the things we've done and really takes everything we've learned and just doubles down on them."