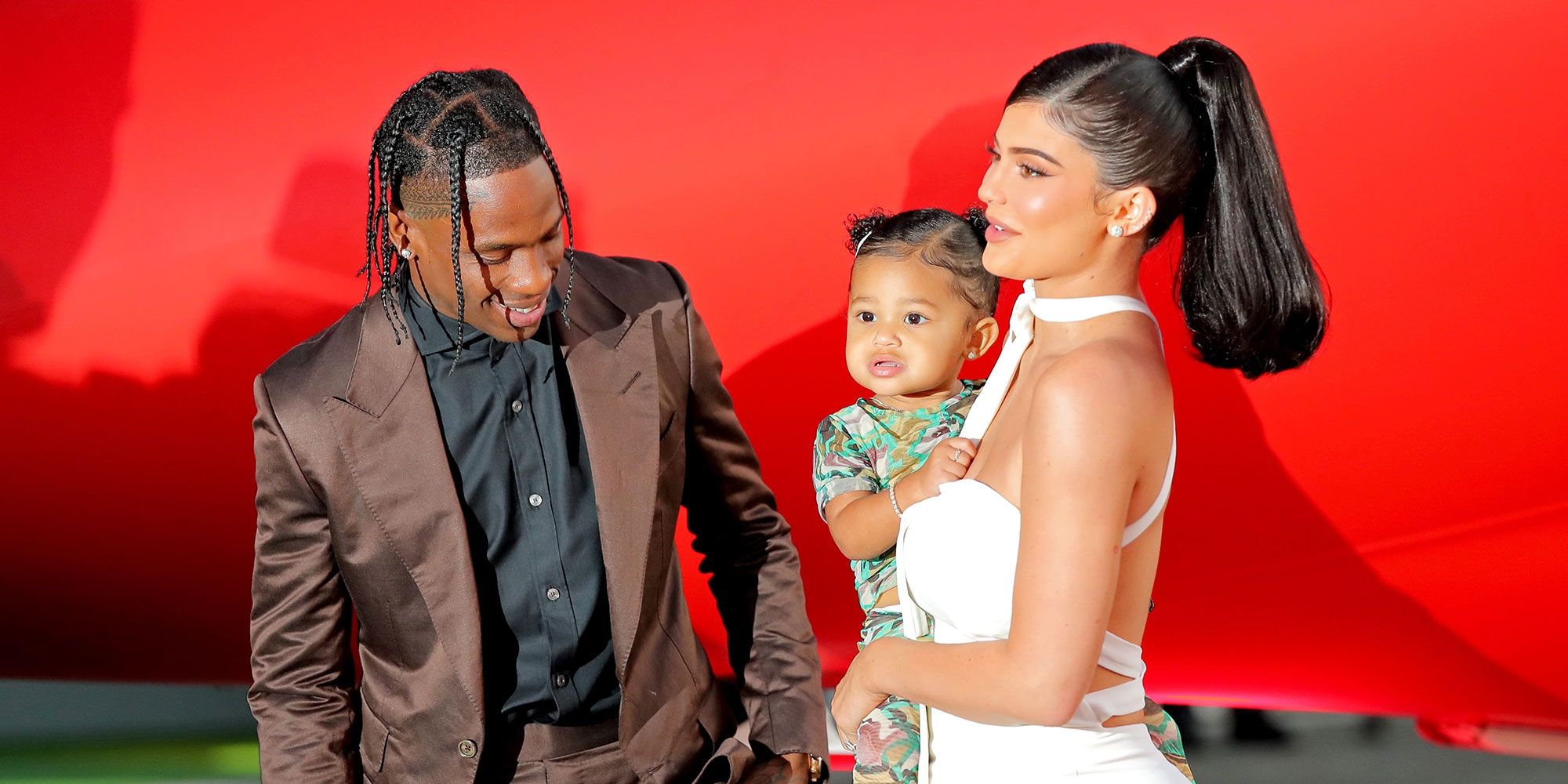 In 2017, Kylie Jenner and ex-boyfriend Travis Scott got matching butterfly tattoos. The ink on the Keeping Up with the Kardashians star's ankle is a symbol of her relationship with the rap artist and their shared daughter, Stormi Webster. 
The butterfly tattoo isn't the only ink Kylie has on her body. The reality star has nine tattoos, and all have specific meanings. The first tattoo Jenner claims to have received was the word "sanity" written phonetically on her right hip. "My first tattoo was 'sanity' to remind myself everyday to keep it," Kylie said, referencing her fame and anxiety. Later on, Jenner added some text to her sanity tattoo. However, it's illegible in her photos. Allegedly, the added text says "before". Kylie also has a small red heart on her tricep, which she apparently got four months prior to her sanity tattoo. Reportedly, she got this tattoo as an 18th birthday celebration. The Kylie Cosmetics founder commonly refers to her sanity tattoo as her first because it had more meaning to her. On her inner bicep, Kylie has the name "Mary Jo", which is a commemoration of her grandmother. Back when Kylie was friends with Jordyn Woods, the duo got matching "m" tattoos on the inside of their pinky fingers. When Kylie was dating Tyga, she got a small 't' tatted on her inner ankle. After they broke up, Kylie changed the 't' to 'la' which symbolised her hometown, Los Angeles. On the back of her arm, Kylie has her daughter's name, Stormi, tattooed in all capital letters. Travis has the same Stomi tattoo on his arm. The other matching ink that Kylie and Travis have together is a small butterfly above their ankles. 
Related: KUWTK: Kylie Jenner Posts Pic Of New Kylie Cosmetics Collection
In one of Kylie's YouTube videos, she reminisced about her elaborate Halloween costumes from previous years, according to Cheat Sheet. A few years ago, Kylie and Stormi dressed up as matching pink butterflies for spooky season. The makeup mogul revealed that the butterfly costume was one of her favourites in the video because it represents her relationship with Travis. "This butterfly look was so special. We didn't go anywhere – I couldn't even walk in those huge wings. But when Travis and I first got together we got matching little butterfly tattoos," Kylie stated. "So a butterfly is just a symbol of our relationship and Stormi, so it was really special to do the butterfly costume." Below is the butterfly costume from Halloween in 2018 that Kylie referenced in her YouTube video. 
Kylie and Travis debuted their matching butterfly tattoos and romance to the world in 2017. The tattoos appear to be the side view of the butterfly, but Kylie and Travis actually have one half of a butterfly which makes a whole. It's unclear why they chose this particular insect for their matching tattoo, but there are some theories. Many fans believe that Scott's song, Butterfly Effect, is about Jenner and that's why they chose a butterfly tat. The second theory is that storms and butterflies are connected through the phenomenon of the butterfly effect which is connected to their daughter's name and the tattoo. Finally, butterflies have played a role in Kylie and Travis' relationship on numerous occasions. Travis gifted Kylie a butterfly necklace in 2017 and the makeup mogul decorated Stormi's nursery with butterflies. None of these theories have been confirmed or denied. 
More often than not, people tend to regret getting matching tattoos with their exes. When the KUWTK star got matching tattoos with Tyga, she definitely felt regret, which is why she altered it. On the other hand, Travis and Kylie will always be intertwined because of their daughter, Stormi. Even though they are no longer together, they continue to co-parent their daughter. The butterfly symbolism will live on in their relationship for years to come. 
More: KUWTK: Kylie Jenner & Travis Scott 'Not Back Together' Amid Romance Rumors
Source: Insider, Cheat Sheet, Kylie Jenner Instagram