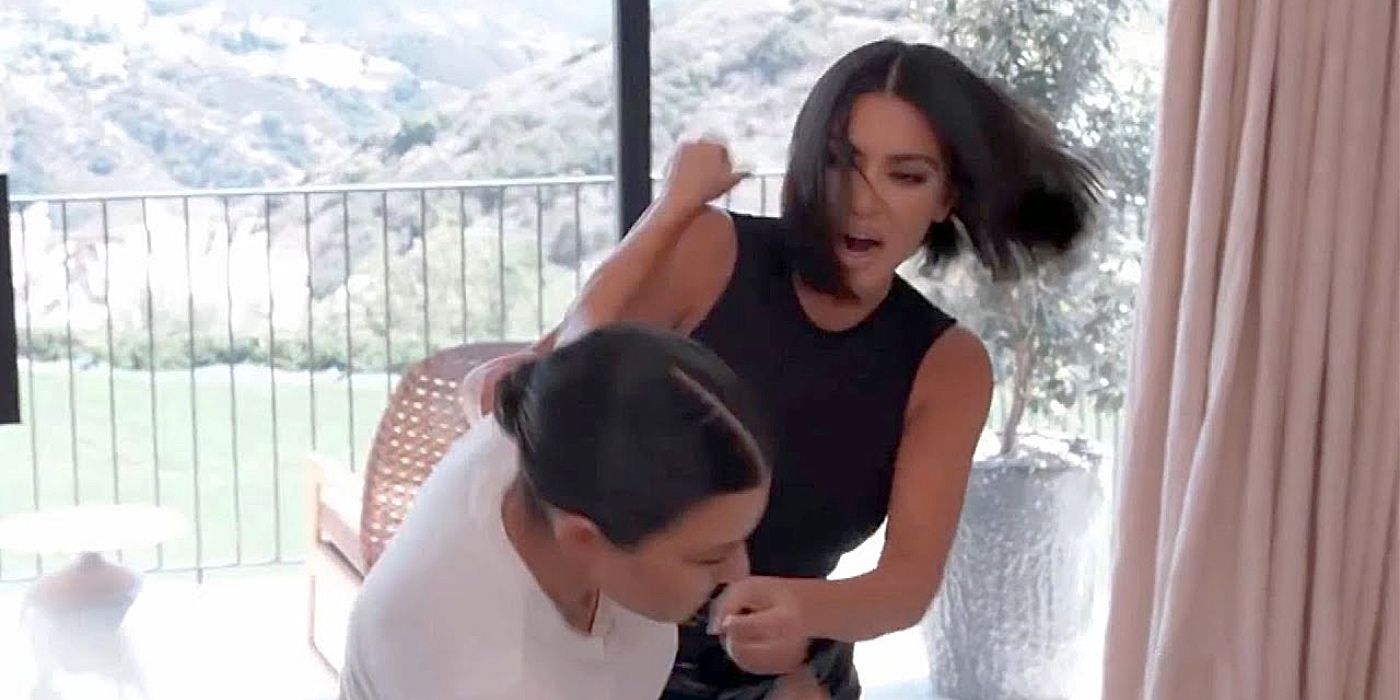 Since the debut of Keeping Up With The Kardashians, the reality show has given fans an all-access pass to the family's drama, including some epic sibling fights. The Kardashian-Jenner crew loves hard but fights even harder. Over the course of 20 seasons, fans have watched some of the most shocking brawls ever. KUWTK may be leaving TV screens, but the iconic fights and screaming matches are here to stay.
In season 2, Kim delivers the first of many iconic insults. After a screaming match erupts at the car dealership, Kim attempts to confront Khloé. As Kim enters the apartment, Khloé slams the door in her face. Kim then delivers the famous line, "don't be f***ing rude" before hitting Khloé with her bag.
Kourtney's disinterest in spending time with her sisters has started a number of arguments between the family. During a trip to San Francisco, Khloé gets particularly irritated with Kourtney after she spends too much time on her phone. She calls Kourtney a "waste of space" and "annoying as f***". Kourtney quickly responds, "F*** you, you f***ing pregnant wh***!"
Related: KUWTK: Corey Gamble Says Kendall Jenner Is 'Rude' After Kylie Fight
In KUWTK season 10, Kim gets extremely offended when Kourtney refuses to be a character on the app, "Kim Kardashian Hollywood". After Scott suggests that Kim buy Kourtney a pair of shoes as compensation, Kim yells, "I'm not buying her a pair of shoes. I bought her a f***ing career!"
During the premiere of KUWTK season 15, Kim fires another iconic insult at Kourtney. When Kourtney complains about scheduling the Kardashian family Christmas photoshoot, Kim loses her temper, "I need Kourtney to not be so f***ing annoying with a stick up her a*s like she f***ing runs this sh*t, because she doesn't. She's the least exciting to look at"
During KUWTK season 15, tensions were high between the sisters. Kourtney questions Khloé about her furniture choices, even calling them disgusting. Already irritated, Khloé fires back, calling her bitchy and even threatening: "trust me – if I wasn't pregnant, I probably would have drowned you in the f***ing pool".
In KUWTK season 17, Kourtney and Kim argue about their daughter's joint Candyland-themed birthday party. Kim vouches for an array of popular candies, while Kourtney fights for providing healthy, chemical-free treats. Kim doesn't want to hear it, "it's a Candyland themed party! Yes, that's like what the party is about – Candyland. It's not f***ing gluten-free land over here".
In season 18, Kim and Kourtney take their insult-based arguments to another KUWTK level and get physical. After a discussion about Kourtney's lack of work ethic gets heated, Kourtney stands up and threatens, "I will literally f*** you up". The two continue to fire insults at each other, such as "what the fuck is wrong with you", "don't ever come at me like that", "I swear to god I'll punch you in your face", "You b**** shut the f*** up". The screaming match quickly escalates into a physical altercation. (see it below at 2:11)
In the most recent sister fight, Kylie chooses an outfit that Kendall had planned on wearing that night. Kendall storms away, telling her sisters that Kylie "ruined my f***ing night". The fight continues during the car ride home from the event. Kendall claims that Kylie put her heel to her neck and said "f*** you". During Kendall Jenner's recollection of the event, she vowed to never speak to her sister again.
As fans can see, tempers flare on Keeping Up with the Kardashians, and that's part of the show's appeal. While the show is ending, KUWTK fans can always remember the good (and really bad) times.
Next: Keeping Up With The Kardashians Will End In 2021
Source: Keeping Up with the Kardashians/YouTube, E Entertainment/YouTube