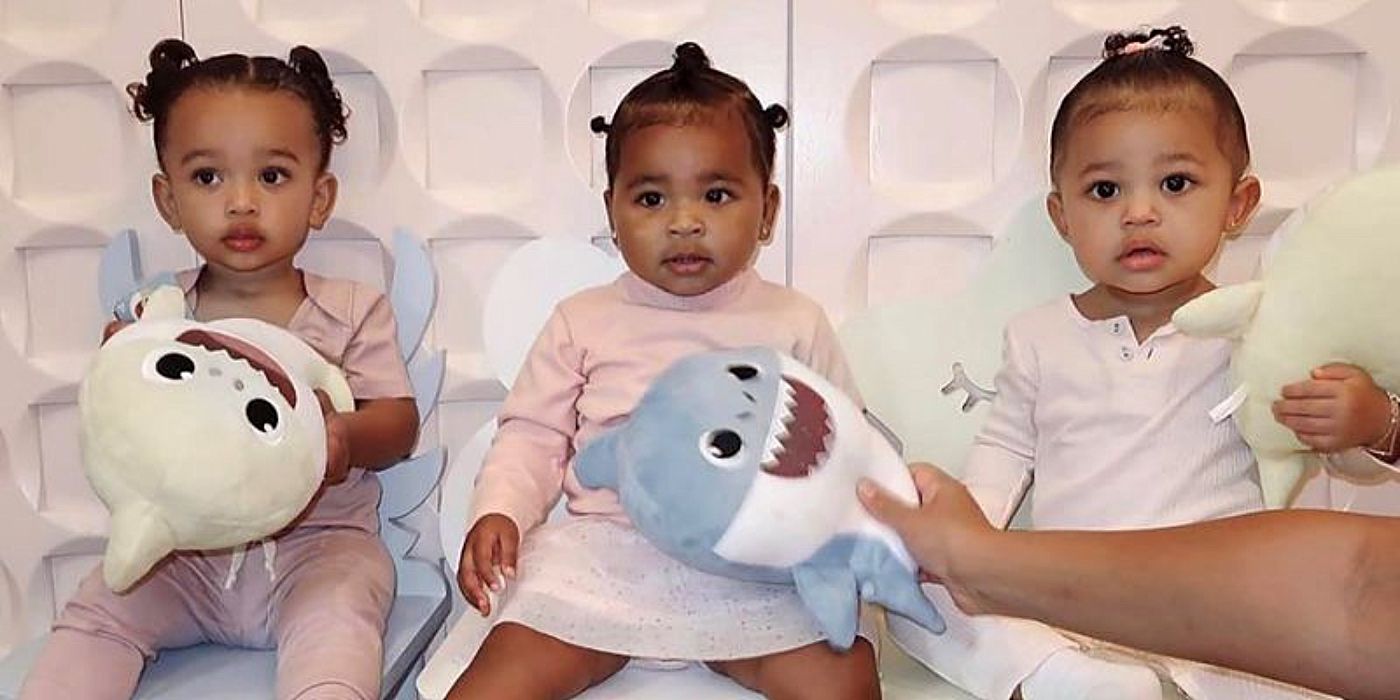 Many fans would know that Keeping Up With The Kardashians cast members are very keen on celebrating festivals. The top on this list is Kylie Jenner and Khloe Kardashian, who usually post the cutest stuff with their kids. The same happened at the recent Thanksgiving dinner when Khloe posted an adorable video of True Thompson and Stormi Webster.
The year 2020 hasn't been the greatest for everyone. However, people are trying to make the best of it, including the Kardashian-Jenner family. On the occasion of Thanksgiving, some of the family members got together – Kylie, Kendall, Kourtney, Khloe, and the mommy Kris Jenner. It is not clear yet if Kim Kardashian West was at the get-together. But, it seems like the party was great. As expected, the Kardashian-Jenner clan posted parts of their Thanksgiving day on social media (via US Weekly), giving everyone a good sneak peek of how they celebrated. The 23-year-old Kylie posted a couple of Instagram stories, showing off what Kourtney has brought and admiring Khloe's baking skills. Many Keeping Up With The Kardashians fans also got to see their fantastic table and plates, which had turkeys printed on them. But most importantly, there was an adorable video of the young ones enjoying their little get-together.
Related: KUWTK: What Sofia Richie Has Been Doing Since Breakup With Scott Disick
The daughters of Khloe and Kylie are very close and of the same age. Both the cuties are barely two years old, but they already act like they've been together for years. While the grown-ups were taking care of the Thanksgiving meal, the young ones were busy enjoying every moment together. In the video posted by Khloe on Instagram (via @kyliesnapchat), True and Stormi can be seen running around while Aqua's Barbie Girl is playing in the background. The two appeared to be enjoying chocolate bar ice creams as they hold them in their little hands while running around. Check out the video below posted by @kyliesnapchat:
As always, the little girls are wearing cute outfits. While True is sporting a white long-sleeved shirt and denim skirt with plaid detailing, Stormi is wearing a white dress and black boots. Many Keeping Up With The Kardashians fans are posting countless heart emojis on the video.  Others are wondering how fast the two are growing up. Some were even curious to know the whereabouts of Chicago West, the daughter of Kim.
Many fans adore the Kardashian-Jenner's family get-togethers, especially when the young ones are involved. The kids would've had a great time with Chicago, who is also two years old. Although Keeping Up With The Kardashians celeb Kim isn't seen in the video, it's certain that she must have had a great time at Thanksgiving with her family. 
Next: KUWTK: Khloe Kardashian Shares Cute Pregnancy Throwback
Source: @kyliesnapchat, Khloe Kardashian/Instagram, Us Weekly