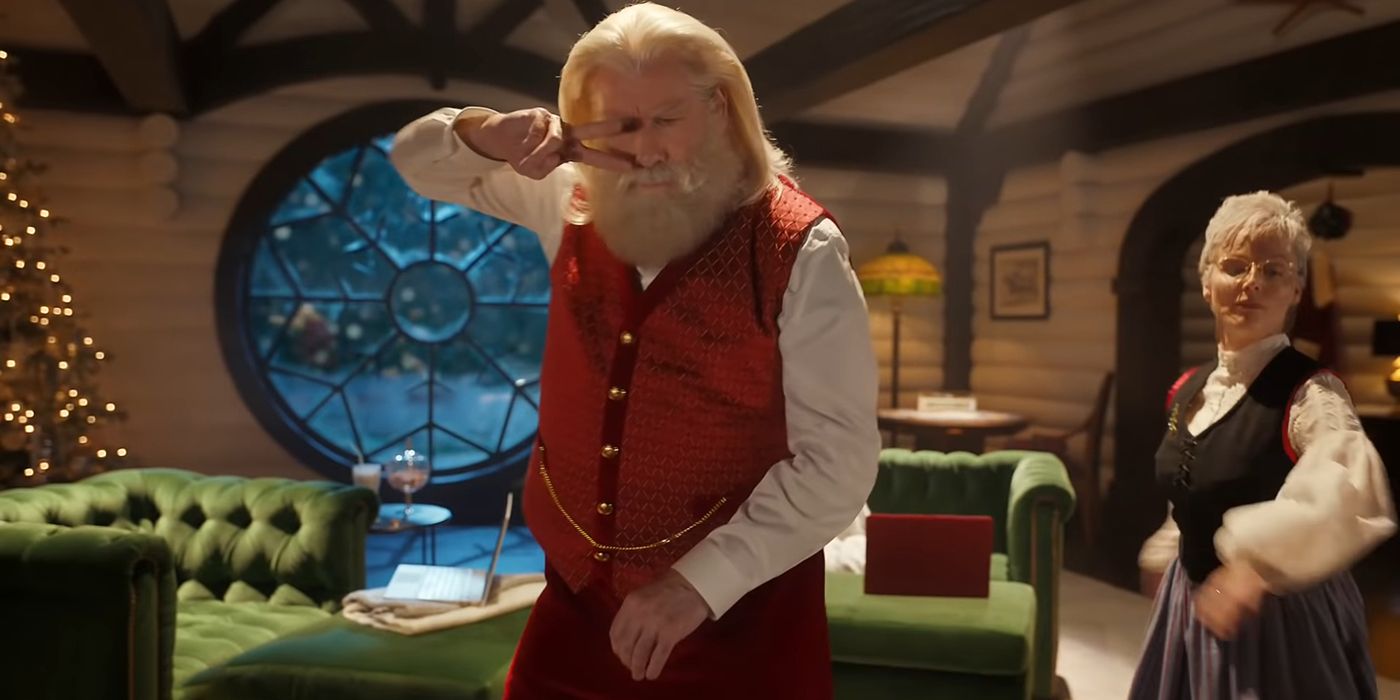 In a festive promotional campaign, actor John Travolta, who portrayed hitman Vincent Vega in 1994's Pulp Fiction, has appeared as Santa Claus to recreate the iconic dance scene from the film. The signature sequence from the Quentin Tarantino classic has since become some of the most recognizable dances in movie history and has been parodied many times.
The dance in Pulp Fiction, which also featured Uma Thurman as Mia Wallace, was directly influenced by similar scenes in 1960's European New Wave films 8½ and Band Of Outsiders. It has since become an iconic piece of pop culture, and the role of Vincent Vega in the movie revitalized John Travolta's career. Although he has not returned to work with director Quentin Tarantino, his appearance in the latest Capital One Christmas advert shows he is still irreversibly connected to the role.
Next: Pulp Fiction: Why Jules & Vern Take Marvin (Did They Mean To Kill Him?)
Via YouTube, the ad for banking company Capital One sees Travolta donned as Santa Claus amongst a Christmassy setting. While online shopping, he receives a video call from Samuel L. Jackson, Travolta's costar in Pulp Fiction. The ad ends with Mr & Mrs. Claus recreating the iconic Tarantino dance scene to the tune of Chuck Berry's 'Run Run Rudolph.' In the movie, Berry's 'You Never Can Tell' was used. Actress Dana Daurey portrays Mrs. Claus in the clip.
Capital One's cheerful ad comes just in time for the holidays. Aside from the dance being well realized in Christmas form, it's clear Travolta is having a lot of fun. There are lots of silly little moments tucked within, too, from the bizarre notification that Santa has saved 'a bazillion dollars' on his '145370000' basket items to Jackson asking Santa if he's off the naughty list. The reply to which is a reference to Jules' excessive use of profanity in Pulp Fiction.
Samuel L. Jackson's appearance is a welcome surprise and further reaffirms Vince and Jules as one of cinema's all-time greatest duos. Another great reference is Sam's t-shirt reading '" Happy Holidays With Cheese," 'in reference to the all too famous Pulp Fiction quote "Royal with cheese." Hopefully, the double act team up again soon to keep Travolta from taking on more questionable roles.
While it doesn't indicate any Pulp Fiction reunion, this festive Capital One ad will undoubtedly put a smile on film fans' faces. Even though it has been parodied endlessly, seeing Travolta, albeit dressed as Father Christmas, go through the iconic choreography nearly three decades later is an endlessly entertaining sight. Let's hope it brings more cheer in the new year.
More: Is Pulp Fiction On Netflix, Hulu Or Prime? Where To Watch Online
Source: YouTube