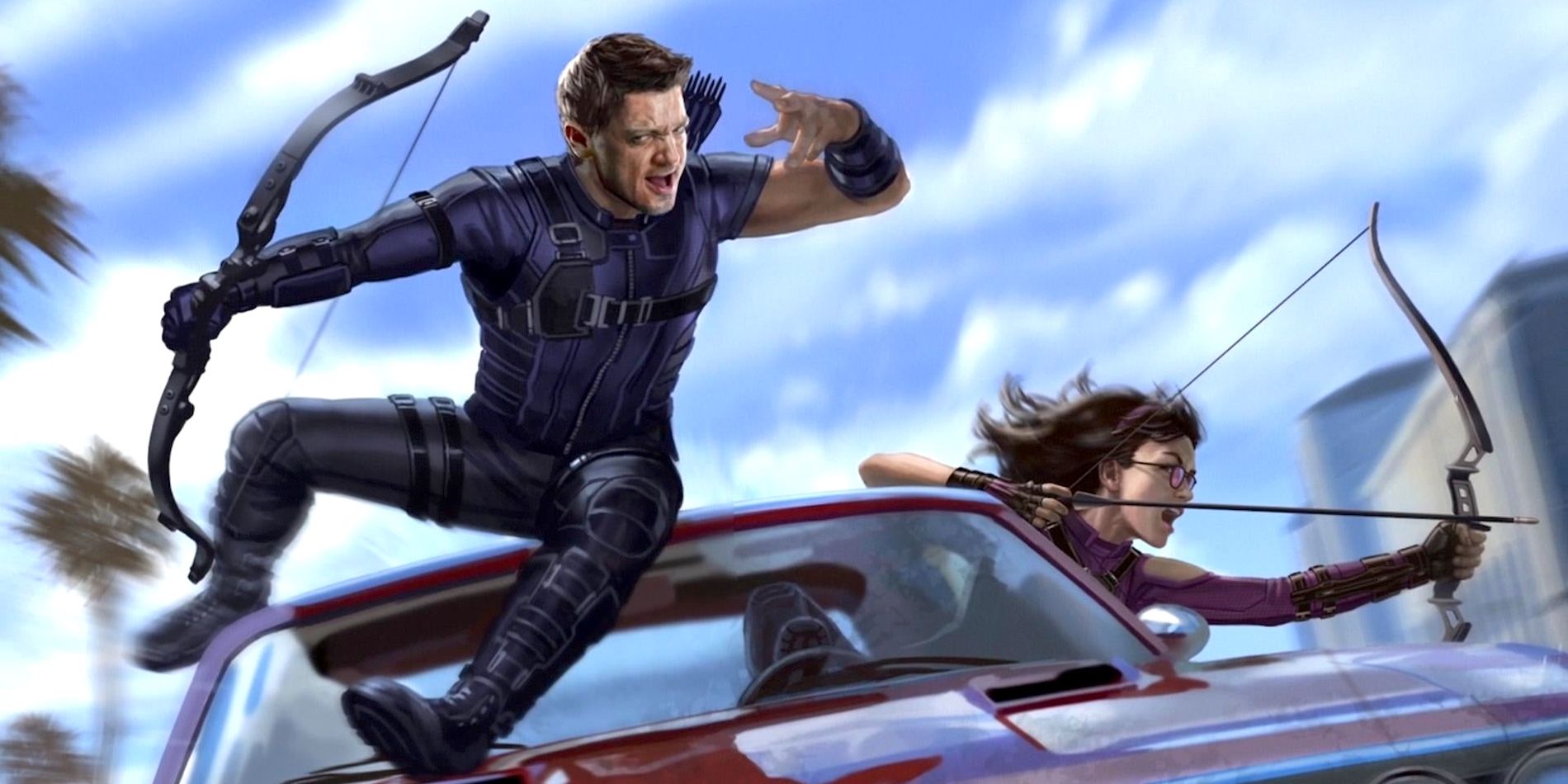 Marvel Studios' Hawkeye Disney+ show will begin filming in New York City next week. Once Phase 4 of the Marvel Cinematic Universe finally begins in 2021, the drought of MCU content will end with a flood of movies and shows. One of the projects in the works will give Clint Barton (Jeremy Renner) a leading role as he trains Kate Bishop to be his MCU replacement. Marvel originally announced that Hawkeye would be out on Disney+ in 2021, but that was before COVID-19 reshuffled the Phase 4 slate and production schedules.
The timeline for Hawkeye's development has been filled with a few twists and turns. It was scheduled to begin filming in the summer of 2020 at first and signs of production nearing came when Marvel found the directors for the Disney+ series. But, that was back in July and there haven't been many updates on the series since. Renner has recently been teasing his training for Hawkeye, giving fans a signal that filming might finally be beginning soon.
Related: Predicting Hawkeye's Villain In His Disney+ Show: Marvel's Best Options
Now, there is new evidence that Hawkeye's production is about to kick off. Verge editor Chris Welch discovered a sign that reveals the show will begin filming next week on December 2 in Brooklyn, New York. The sign is for "Anchor Point," which is the working title for Hawkeye. It is not clear how long production will take place in Brooklyn, as Atlanta, Georgia is reportedly set to be the base of operation for the show.
The start of filming on Hawkeye next week is a big milestone for the show and the latest wave of Marvel Studios kickstarting a series of new projects. Set photos already surfaced from Ms. Marvel after just a week or so of filming, while Loki's production is winding down. This will make Hawkeye the third MCU Disney+ show to be actively filming, with The Falcon and The Winter Soldier and WandaVision already done. Marvel Studios is also currently filming Spider-Man: Homecoming 3 and Doctor Strange in the Multiverse of Madness.
With some members of Hawkeye's cast potentially reporting for duty next week, this should be good news for fans anxiously waiting to learn who will play Kate Bishop. Hailee Steinfeld was offered the role by Marvel but her schedule with Apple+'s Dickinson reportedly was causing some issues. However, there have yet to be any reports of other actresses discussing the role with Marvel. If Steinfeld or whoever will play Kate Bishop is going to be on set next week, then it is likely news of the casting will surface in some capacity. And whoever it might be, the on-set filming for Hawkeye in Brooklyn could provide fans with some early set photos of the upcoming series.
MORE: Marvel's Hawkeye Could Introduce A New MCU Avenger (As A Villain)
Source: Chris Welch