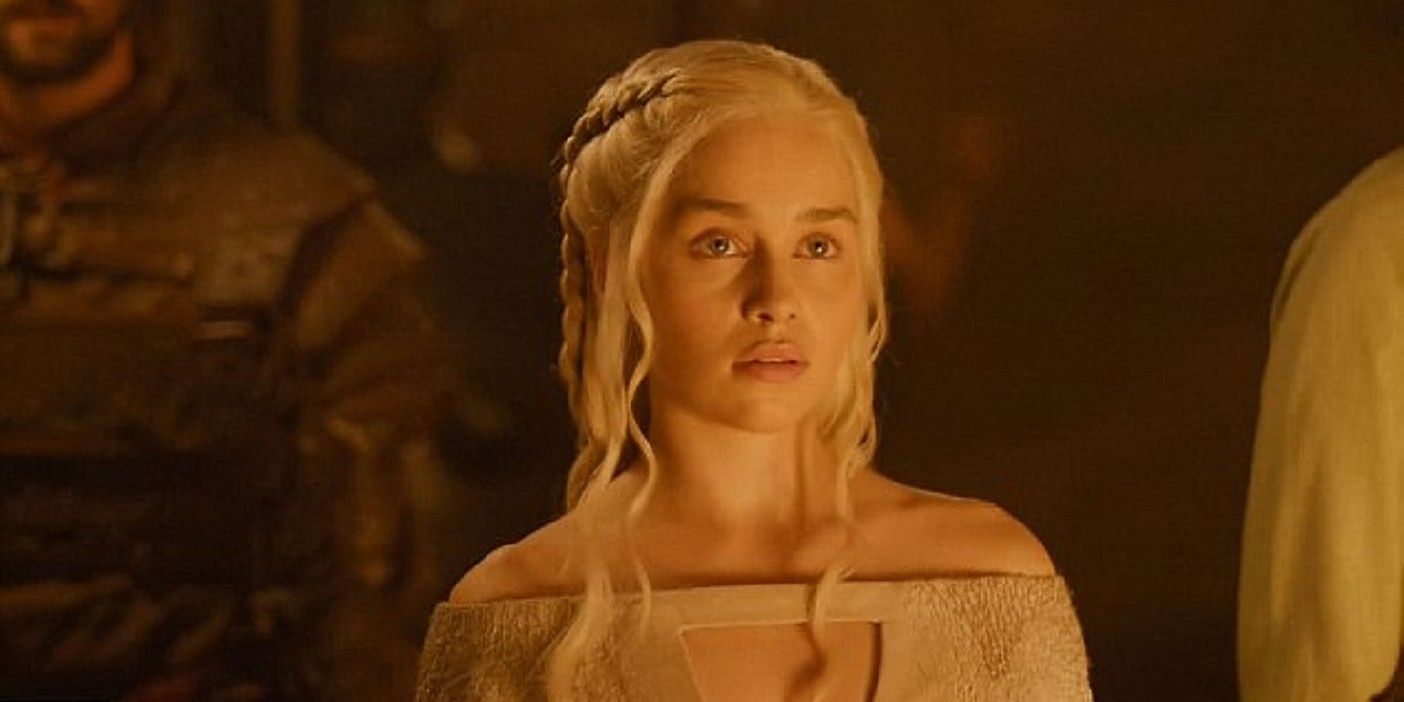 Emilia Clarke improvised a long monologue in the fictional language of Valyrian in Games of Thrones season 5. Serving as the adaptation of George R.R. Martin's acclaimed novel series A Song of Ice and Fire, Game of Thrones is the fantasy epic drama series created by David Benioff and D.B. Weiss. The show debuted on HBO in 2011 and ran for eight seasons before finally ending in 2019. Throughout its run, Game of Thrones drew record-breaking viewership for its home network. The series arcs concerning the Iron Throne and the Seven Kingdoms of Westeros grabbed the attention of critics and fans alike, leading the show to become one of the top Emmy Award winners in history. Game of Thrones also launched several of its stars to immense popularity, including Clarke, who starred in the show as the Mother of Dragons, Daenerys Targaryen.
While Clarke always managed to shine on the screen in Game of Thrones, she may have delivered her career-best performances as Daenerys during season 5 of the show. In season 5 episode 5, "Kill the Boy," Daenerys and Daario Naharis watch over the deceased Ser Barristan Selmy in Meereen. Suspecting a ploy against Daenerys, Daario advises the Queen to round up all the noblemen and investigate them over their involvement in Barristan's killing. Daenerys accepts Daario's suggestion and orders for all the leaders in Meereen to be brought to the catacombs where Rhaegal and Viserion are chained up. Daenerys' Unsullied subsequently push one of the leaders towards the dragons, who scorch the man and eat him. Before the man is killed, Daenerys delivers a chilling speech in her ancestral language, Valyrian.
Related: Game of Thrones: Every City Daenerys Targaryen Conquered (& How)
During a conversation with EW's James Hibberd for his book Fire Cannot Kill a Dragon, director Jeremy Podeswa revealed the Valyrian monologue Clarke delivered in "Kill the Boy" was actually improvised. Originally the speech was in English. However, the showrunners felt the monologue would be more impactful if it were uttered in Valyrian. According to Podeswa, "[Showrunners David Benioff and Dan Weiss] came down – they were watching the scene being shot – and they said, 'Wouldn't it be great if the scene was in Valyrian?" Normally in Game of Thrones, Valyrian and Dothraki dialogue is written beforehand by the show's linguist David Peterson, and the actors are given sufficient time to get comfortable with the lines. However, since Podeswa found Benioff and Weiss' suggestion interesting, he simply went down to Clarke and asked her if she "could figure out a way to do this [the monologue] in Valyrian?'" Clarke quickly agreed, and in only 10 minutes, she had her lines ready.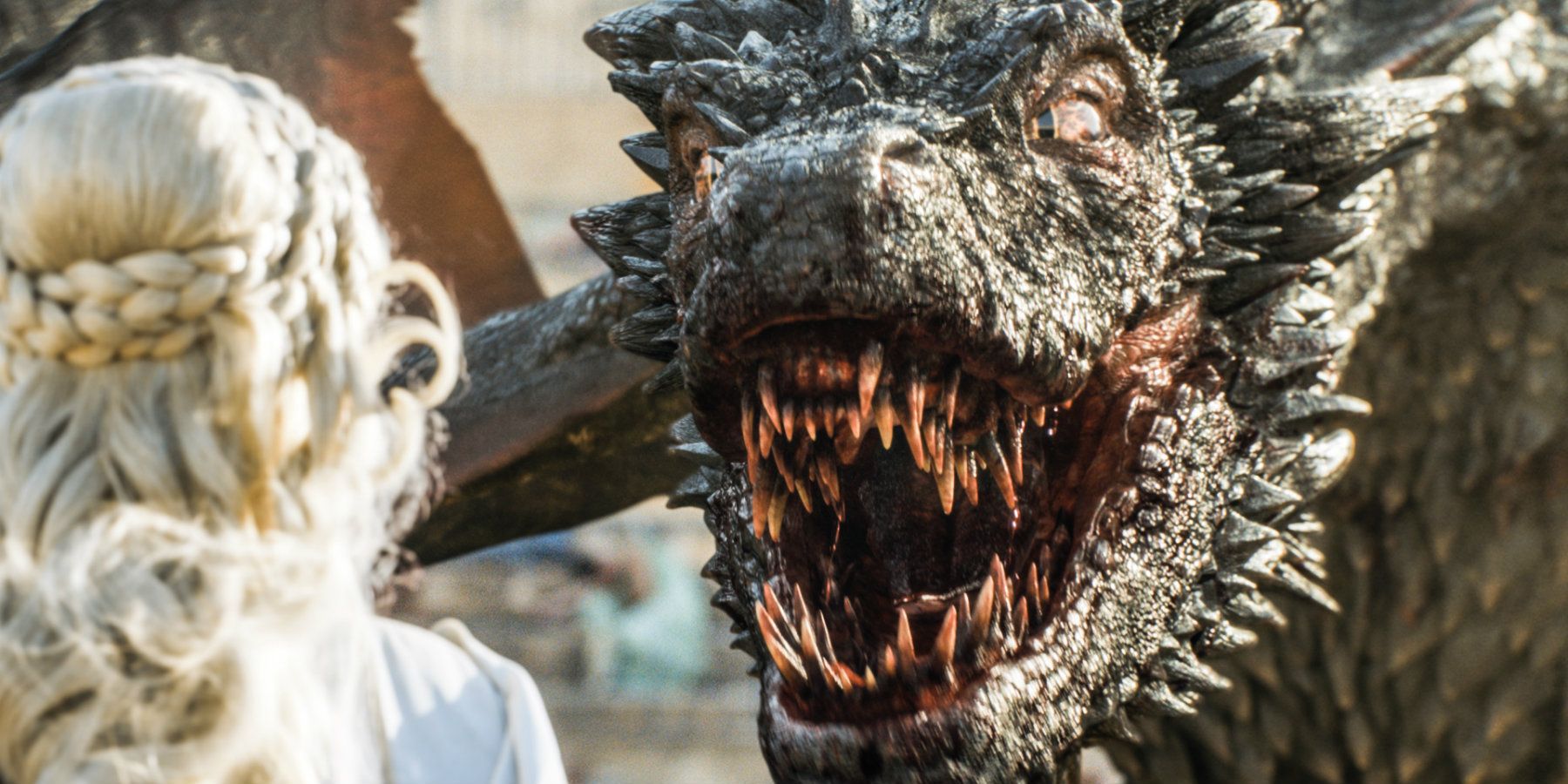 This wasn't, however, a first for Game of Thornes in terms of improvisation. The show's stars have improvised some moments and lines according to the situation. Ser Jorah actor Iain Glen, for instance, made up an approximation of a Dothraki line for a scene where he encouraged Daenerys' followers at the grand residence to travel again. In fact, the romantic tension between Kristofer Hivju's Tormund Giantsbane and Gwendoline Christie's Brienne of Tarth was also improvised. None of these instances, however, top Clarke's seamless, impromptu, lengthy Valyrian monologue.
Daenerys' terrifying dramatic monologue in "Kill the Boy" was a defining moment for the dark side of her character. It reflected that Daenerys is still a Targaryen, who embraces her family's ancestral tyranny and language whenever the moment calls for it. Given how iconic the speech was, it's hard to imagine it was improvised. At the same time, this manifests Clarke's prowess as an actor and the effort she put into Game of Thrones. Not only did Clarke familiarize herself with a made up language, she showed off her skills when it mattered most. Needless to say, Clarke is deserving of all the awards and nominations she landed as Daenerys Targaryen.
Next: Game Of Thrones: Why The Original Daenerys Actor Was Recast
Source: EW