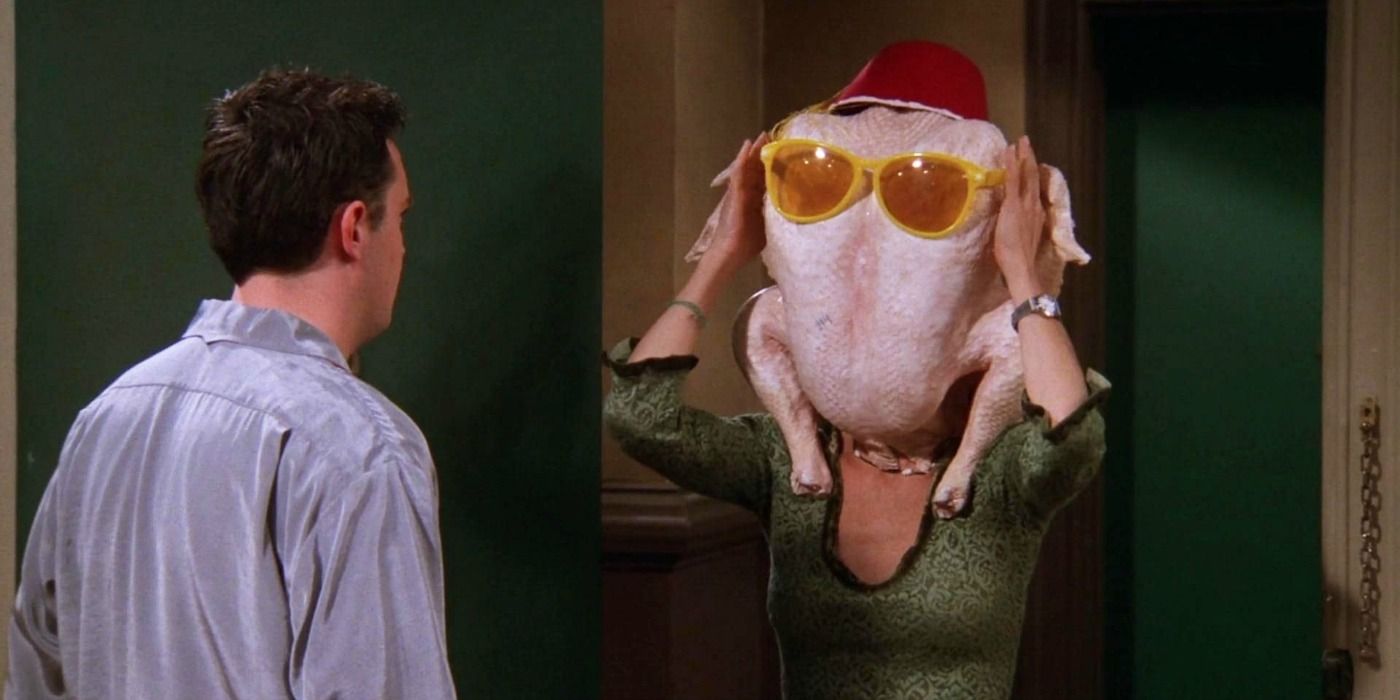 Courteney Cox got into the Thanksgiving spirit this year and recreated Monica's famous turkey scene from Friends. One of the most popular comedies of all time, Friends remains a part of the pop culture conversation today. Since it went off the air in 2004, fans have clamored for a reunion or revival of some kind. They'll get their wish next year when the entire cast reunites for an unscripted special on HBO Max. Though it was originally supposed to debut earlier this year, the pandemic forced a filming delay. Cox's former co-star Matthew Perry only recently revealed the Friends reunion will film in March 2021.
During its ten season run, Friends became well-known for its Thanksgiving episodes. It was the rare show to air one every single season, with some among the most iconic Friends episodes of all time. Popular ones include "The One With The Football," "The One With Chandler In A Box," and "The One With The Rumor," guest-starring Brad Pitt. However, the season 5 Thanksgiving outing, "The One With All The Thanksgivings," is a favorite thanks to one scene in particular. During it, Monica tries to make up with Chandler after a spat by putting a turkey on her head and dancing. Aside from being a funny moment, it leads to Chandler telling Monica he loves her for the first time.
Related: Friends: Every Thanksgiving Episode
Monica's turkey dance is a favorite on the Internet this time of year, often in gif form. Cox referenced its popularity in a hilarious video posted on Thanksgiving. In it, she complained about the number of people who send the turkey gif to her, before good-naturedly recreating the scene herself. Check out Cox's video below:
It's fair of Cox to joke about how often people reference the Friends scene around her. Monica with the turkey head is arguably one of the most famous images from the series, so it makes sense Cox hears about it often. However, she's clearly a good sport about it, and her video should cheer up Friends fans looking for a laugh this holiday season.
Though this particular circumstance is unique to Cox, actors often become associated with one character or even specific moment that audiences have a hard time forgetting. Though Cox has had many iconic roles throughout her career so far, Monica is her most well-known. Judging by Friends' continued popularity, that's unlikely to change anytime soon. As of now, it seems Cox may be o.k. with that.
More: Friends: Monica & Chandler's Relationship Almost Happened Much Earlier
Source: Courteney Cox