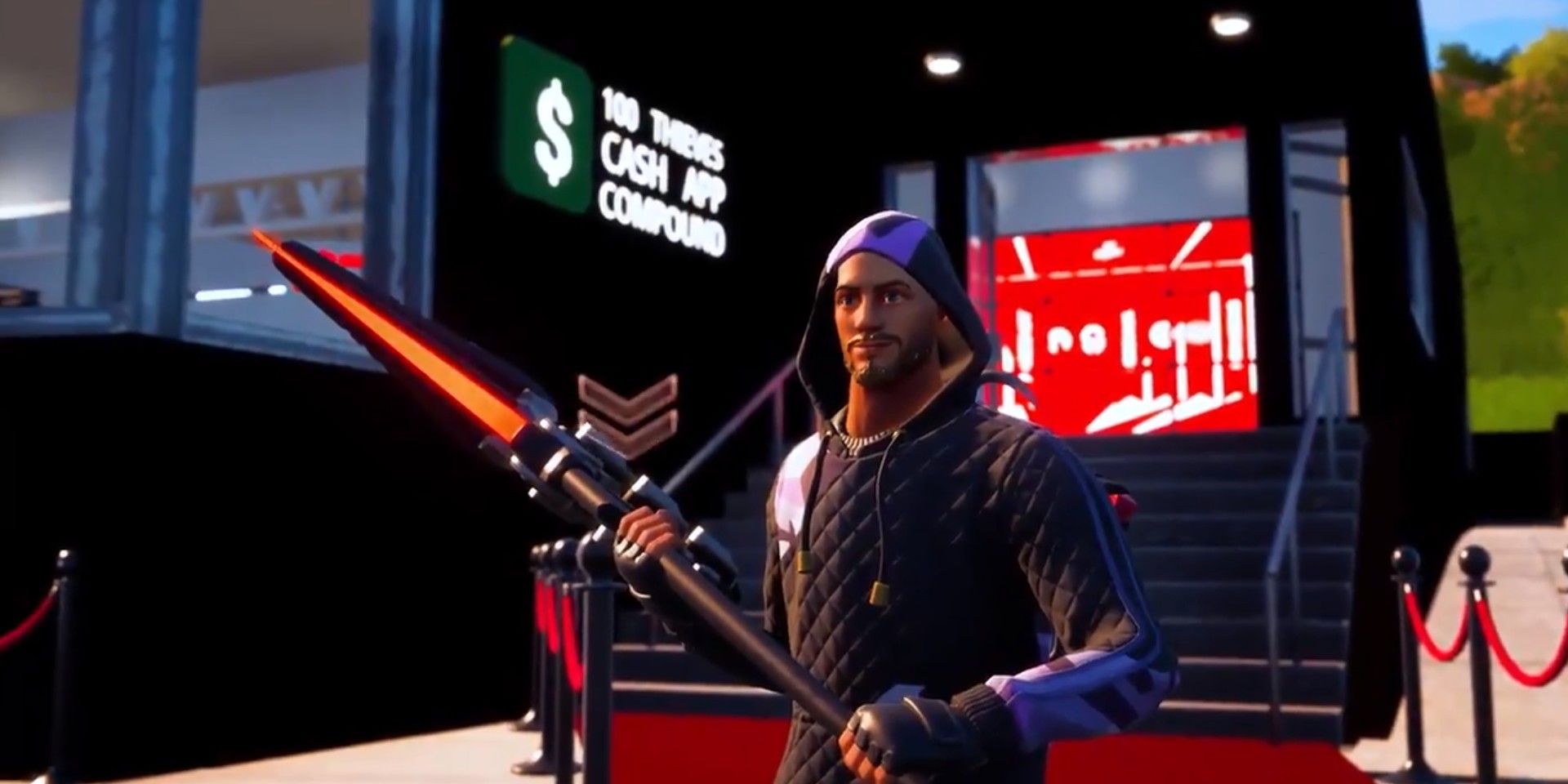 The 100 Thieves Cash App Compound has been faithfully recreated in the creative mode of Fortnite. 100 Thieves is hardly the first real-world organization to make use of the popular battle royale's creative mode. In the days leading up to the United States election, now president-elect Joe Biden launched a creative map to encourage voter turnout.
Fortnite is a good place for sending messages and self-promoting. It is, by many metrics, one of the most successful video games in the world. Its overwhelming fame has made it a cultural phenomenon, and even people who've never played a video game have likely at least heard its name. Even Fortnite itself is using its own fame to send a message; earlier this year the game became the battlefield for an ongoing legal battle between developer Epic Games and Apple, with the former accusing the latter of exerting a monopoly over the iOS development space and furthering anticompetitive practices.
Related: Fortnite Is Getting Redesigned NFL Skins In The Item Shop This Week
But even while this legal case rages on, Fortnite is still going strong and it's still being embraced by organizations around the world. The latest group to do so is 100 Thieves, an eSports organization and lifestyle brand. The company announced on Twitter that it has used the game's creative mode to construct a faithful, life-size model of the Cash App Compound, an HQ building opened in the real world by the team earlier this year. The compound contains player training facilities, a content production studio, and a business HQ. This impressive structure can now be visited and explored in Fortnite, and to commemorate this reproduction, 100 Thieves is offering a Fortnite gear giveaway to any fan who photographs themselves visiting the compound.
The internet is awash in stories of people using video games to channel their creativity in strange and fascinating new ways. Back in August, for instance, Fall Guys fans descended on Fortnite Creative and built custom maps and minigames in celebration of the quirky bean-based battle royale. And this is just in Fortnite. Games like Minecraft and Animal Crossing have a proud tradition of playing host to the extreme limits of what human creativity can produce. And fans aren't even limiting themselves to games with creative modes; horse enthusiasts have begun using mods to enhance the horse experience in games like Red Dead Redemption 2.
Video game fan creativity has certainly extended to faithful recreations like this before, too. For instance, one dedicated fan built a whole Mario Kart track inside Breath of the Wild. This is clearly more of a promotional endeavor than that passion project, but that doesn't make it any less important to the people who worked on it. 100 Thieves was clearly very proud of its Cash App Compound when it revealed the real thing, and this faithful Fortnite recreation is nothing to sneer at. It's just more evidence of how many amazing things can be done in the world of video games.
Next: Fortnite Mandalorian Skin & Season 5 Battle Pass May Have Just Leaked
Source: 100 Thieves