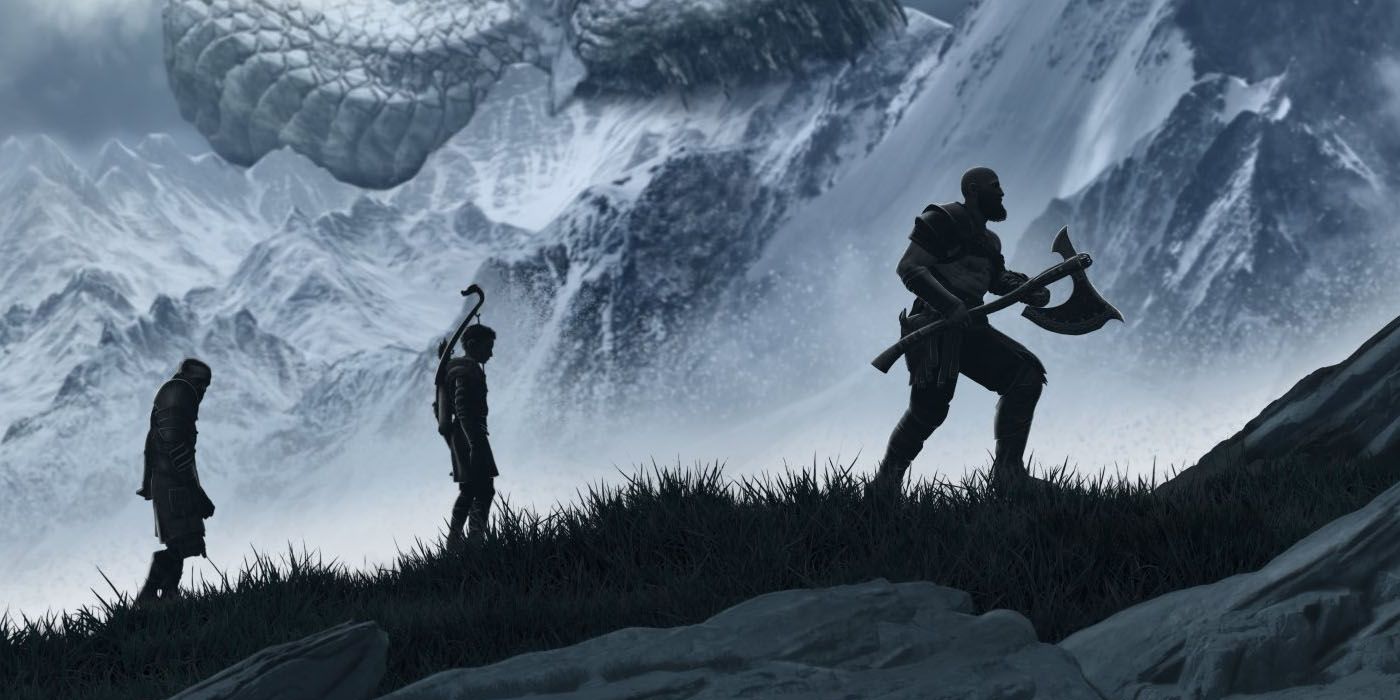 God Of War: Ragnarok won't arrive for at least another year, but that hasn't stopped fans from creating some impressive and humorous fan art of series protagonists Kratos and Atreus in the meantime. The sequel to Santa Monica Studio's critically-acclaimed 2018 reboot was announced for both the PlayStation 5 and PlayStation 4 in September following months of rumor and speculation, serving as another promising transition title between the two console generations.
Very little is known about God Of War: Ragnarok at the moment, but its title suggests that the plot will feature the fabled final chapter of Norse mythology, which describes how the world ends in a great final battle before being born anew. In the meantime, Ragnarok's predecessor already reignited the God Of War franchise two years ago thanks to its revamped combat and emotionally compelling story, humanizing the formerly vengeful Kratos as he took his son Atreus on a somber journey of self-discovery across the lands of Midgard. As such, fans are excited to see what the next chapter of this newly-refreshed series will bring next year, as evidenced by all of the creative artwork that has cropped up online in the past year or so.
Related: How Assassin's Creed Valhalla's Norse Myth Compares To God of War's
Video game fan artist BlackThunder (who has previously won a God Of War fanart contest) has shared a few of their God Of War-inspired pieces on Twitter throughout 2020. These works include visually stunning alternate cover ideas of Kratos leading Atreus across the peaks of Jötunheim, concepts for God Of War: Ragnarok featuring Kratos battling what appears to be Thor on the back of the mysterious and melancholy World Serpent (which could very well happen due to the legendary God of Thunder being mentioned a few times in the previous game), and even a few funny images like a mock poster made in the style of The Shinning (a fitting reference due to Kratos's primary weapon these days being an axe) and a game cover reimagining Kratos and Atreus as Jedi Master Yoda and the meme-spawning Child from The Mandalorian.
This collection of fan art is just part of many creative works that have spawned from 2018's God Of War and its upcoming sequel. So far, fans have reimagined Kratos as comic book icon Spawn, presented alternative looks for him based on God Of War: Ragnarok's Norse setting, and even produced a children's book based on the last game's very M-Rated adventure courtesy of licensed publisher Insight Editions.
BlackThunder's God Of War fan art runs the gamut of serious to comical, but it's all incredibly well-done. The newest string of God Of War titles has certainly inspired the imaginations of fans all over the world, and this stream of creativity will certainly continue as excitement builds for the next chapter of Kratos and Atreus's story when it launches sometime next year.
Next: God of War Has ALWAYS Been About Hope, Not Hate
Source: BlackThunder (via Twitter)