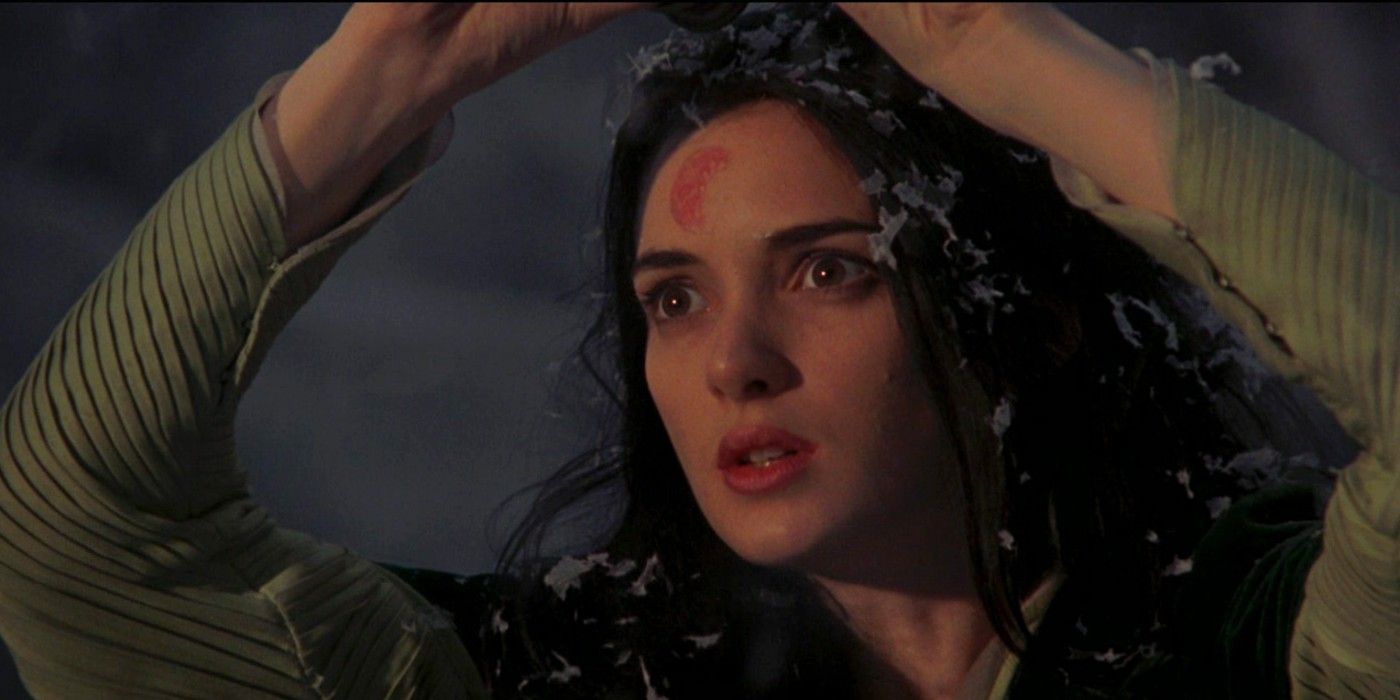 Actress Winona Ryder was an integral part of getting the 1992 Dracula movie made. Arguably one of Francis Ford Coppola's best movies, which was fully filmed on sound stages, Dracula is based upon the 1897 novel by Bram Stoker. It centers on Count Dracula as he travels from Transylvania to England to seduce a woman he believes to be a reincarnation of his deceased wife. The movie stars Gary Oldman in the titular role, as well as Ryder as Mina Harker, Keanu Reeves as Jonathan Harker, and Anthony Hopkins as Professor Abraham Van Helsing.
Ryder's role, Mina – a name short for Elisabeta – is the main female character in the story of Dracula. Ryder played the character with conviction; perhaps she did such a good job because, as she told The Orlando Sentinel in a 1992 interview, she loved the book so much. "I read the book when I was in high school," she stated. "It was all written in the form of journal entries. That was fascinating in that it allowed the perspectives of all the different characters to be known so completely." Count Dracula believes Mina to be the reincarnation of his former love, lost centuries ago. While Mina is engaged to marry Jonathan Harker, Dracula covets her, and eventually she falls for the vampire herself.
Related: Five Major Roles Winona Ryder Turned Down
Ryder didn't only act in the film, though — she was actually a crucial part of getting the project made. Ryder is the person who brought the Dracula script, written by James V. Hart, to Coppola's attention. There had previously been tension between the actress and the director because Ryder had recently withdrawn from The Godfather Part III, which had caused production delays. But Ryder was shown the script and knew she had to show it to Coppola, as she had a feeling he would make it into a great movie. Initially, Ryder thought Coppola would ignore the script due to not liking her, but he was convinced to take a look at it after she insisted.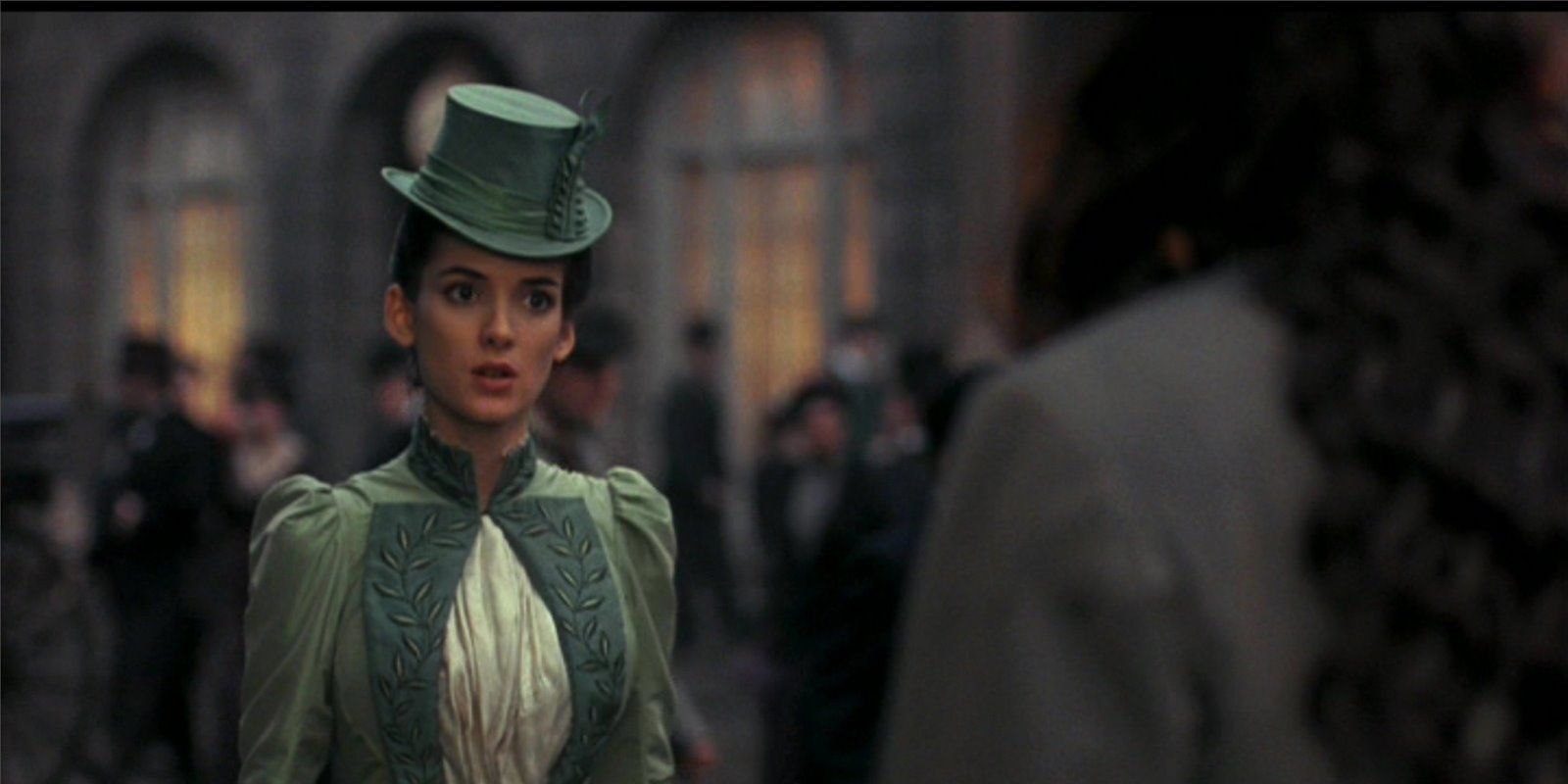 As it turned out, Dracula was a favorite story of Coppola's, too. As Ryder told The Orlando Sentinel: "When he saw the word 'Dracula,' his eyes lit up. It was one of his favorite stories from camp." Coppola decided to take on the script, letting the tension between himself and Ryder fade away in the process. He brought an incredibly unique ambiance to the 1992 movie with the cinematography, score, set design, costume design, and makeup, and he let the phenomenal cast shine in their respective roles.
Of course, the movie ended up being a big career moment for both Ryder and Coppola. Before this, Ryder had only been in a few prominent movies: Beetlejuice and Heathers in 1988 and Edward Scissorhands and Mermaids in 1990. Directly after starring in Dracula, she went on to star in The Age of Innocence and The House of Spirits. Throughout the 1990s, Ryder landed roles in prominent, acclaimed movies such as Little Women, The Crucible, Girl, Interrupted, and Being John Malkovich. While Coppola already had an expansive career before Dracula, having directed The Godfather movies, Apocalypse Now, and The Outsiders, among several others, the gothic horror movie brought him further critical recognition.
Dracula was nominated for four Academy Awards and won three for Best Costume Design, Best Sound Editing, and Best Makeup, and it was also nominated for Best Art Direction. Following his success with Dracula, Coppola would go on to direct Jack, The Rainmaker, Youth Without Youth, Tetro, and Twixt. Ultimately, fans of Bram Stoker's Dracula and its 1992 movie adaptation can surely thank 20-year-old Winona Ryder for bringing the gothic horror movie script to Coppola's attention, as the project might not have been brought to life in the same way without her help.
Next: Dracula 1992: Every Way Coppola's Movie Deviates From Bram Stoker's Novel