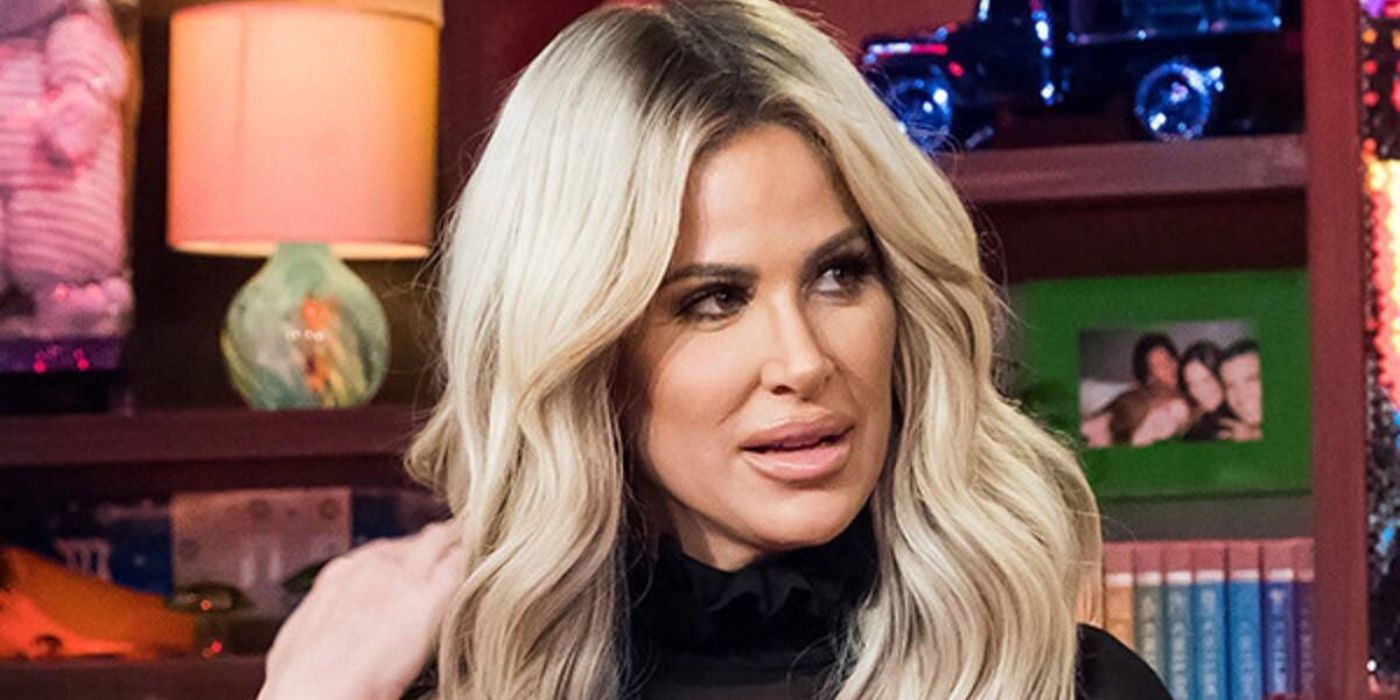 Kim Zolciak-Biermann from Don't Be Tardy has been in the public eye for many years now, but parts of her life are still a mystery to some reality TV fans.
Kim became a public figure after she joined the first season of The Real Housewives of Atlanta alongside NeNe Leakes, Shereé Whitfield, Lisa Wu, and DeShawn Snow. She was a very polarizing figure as many found her to be a bit obnoxious, but she was always able to stand her ground when she went up against NeNe Leakes. Kim left RHOA after season 5 episode 6 but returned as a "friend of" in RHOA season 10. After she left the show for the first time, she began her new reality series, starring herself and her family.
Related: Real Housewives of Atlanta: Why Kim Zolciak-Biermann Will Never Return To Show
According to Celeb Answers, Kim is an American television personality best known for her role on RHOA. She is famous for flaunting her lavish lifestyle on TV, and is notorious for having dated a married man, whom fans know as "Big Poppa". Before Kim became the reality star she is today, she lived quite a normal life with her two daughters, Brielle and Arianna. At just 17 years old, Kim had an affair with a police sergeant. which resulted in the officer's suspension, according to Web Archive. Kim studied to be a nurse at the University of Connecticut. At age 21, she moved to Atlanta, Georgia, with her parents. During Kim's time on RHOA, she met her now-husband, Kroy Biermann. After less than a year of dating, the couple gave birth to their first child together, Kroy Jagger"KJ" Biermann. Since then, the couple have had three other children (Kash Kade Biermann and twins Kaia Rose and Kane Ren Biermann). Between RHOA seasons 4 and 5, Kim and Kroy filmed their spin-off wedding series, Don't Be Tardy For The Wedding, which was renamed Don't Be Tardy after the first season proved to be a success. Kim's still into date nights with her hubby, as seen in the post below:
During her first couple of season of RHOA, Kim began her singing career. On the show, fans saw Kim try to get her singing career off the ground by attempting to produce a country album. The record deal fell through, but in season two, fellow cast member Kandi Burruss helped Kim with her song "Tardy for The Party," by rewriting and remixing the track. It was a huge hit and was even used as the theme song for her new show. In 2015, Kim was cast on Dancing with the Stars season 21, according to People. After arriving home one night following a DWTS performance, Kim suffered from a TIA (a mini-stroke), which caused the left side of her body to go completely numb. She was also unable to speak. Her health situation caused her to withdraw from the dancing competition after only three weeks.
Kim Zolciak-Biermann was one of the most interesting Real Housewives to ever join a franchise. Now, fans can watch her and her family go through life on her reality series, Don't Be Tardy.
Next: RHOA: Porsha Williams Denies Pregnancy After Being Hospitalized
Don't Be Tardy airs Tuesdays at 10 pm ET on Bravo.
Sources: Celeb Answers, Web Archive, People, @kimzolciakbiermann/Instagram