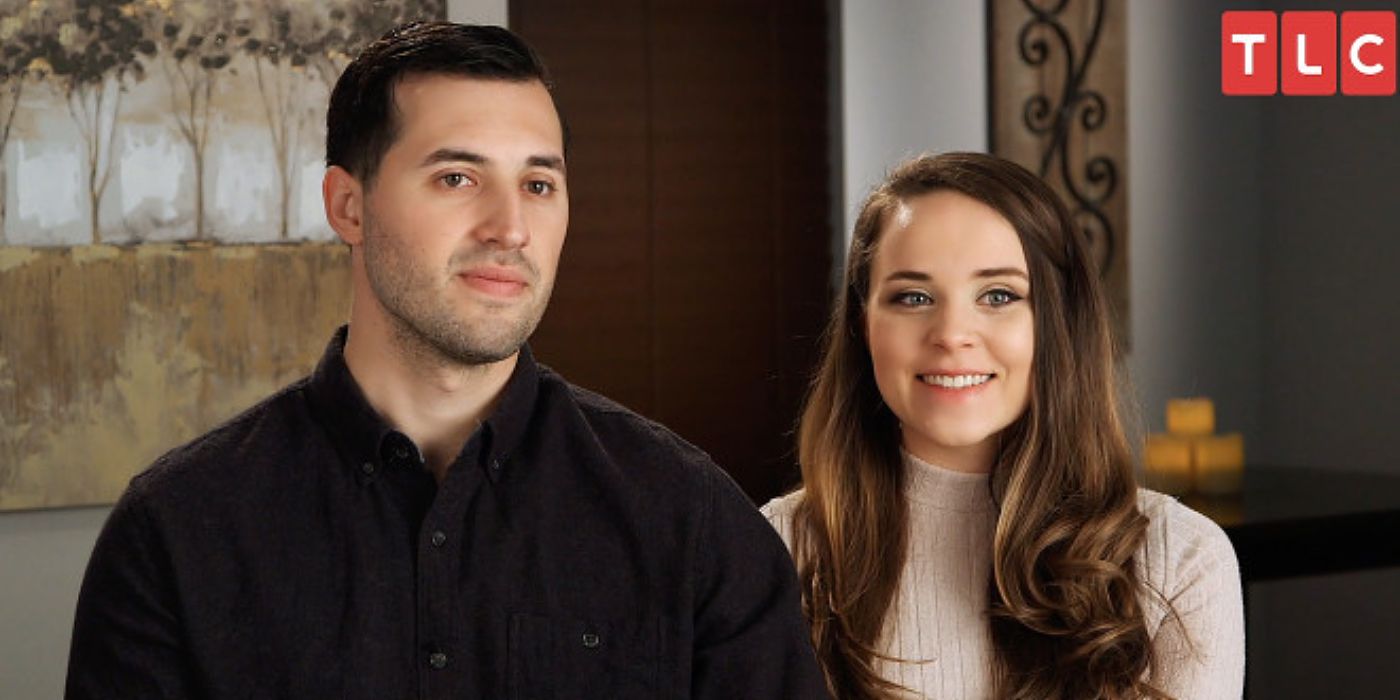 Jinger from Counting On and her husband Jeremy Vuolo recently welcomed their second daughter Evangeline Jo into the world, and the couple couldn't be happier about their brand new bundle of joy.
Jinger, 26, is the fourth-eldest daughter of Jim Bob and Michelle Duggar. The 19 Kids and Counting personality met 33-year-old Jeremy (he's a former professional soccer player) in 2015, during a mission trip to Central America. After courting for seven months, the couple got married. Their first daughter Felicity Nicole was born in July 2018 while Jinger and Jeremy lived in Texas. Soon after, the Vuolos moved to Los Angeles. The decision to move away was something unprecedented and unheard of among the Arkansas-based Duggar clan. In fall 2019, the morning after the pair announced to loved ones that they were expecting again, they suffered a heartbreaking miscarriage.
Related: Counting On's Jinger Vuolo Cut From LA Partnership for Having Differing 'Core Values'
Now, one year later, Felicity gets to be a big sister. According to People, Evangeline Jo was born on Nov. 22, at 11:26 p.m., weighing in at 7 pounds. The parents are ecstatic about their family's new addition. Jinger said, "We are so excited. Felicity is going to have a sister. Everything looks great with the baby. We're so thankful. Had a lot of check-ups and we're just really, really excited." Jeremy added, "Our baby girl, Evangeline Jo, arrived quickly and safely on Sunday night. Jinger is recovering very well, enjoying finally being able to hold her little angel." Evangeline Jo is Jinger and Jeremy's miracle baby, and her name is a testament to that. Evangeline means "good news." As for Jo, Jinger said this was inspired by her husband's middle name, Joseph. Jinger from Counting On shared a photo of her "precious little angel" on her Jinger Vuolo Instagram. The post can be seen below.
The birth of Evangeline Jo comes on the heels of numerous other Duggar pregnancies. After a miscarriage, Joy-Anna Duggar and husband Austin Forsyth welcomed their "rainbow baby" Evelyn Mae over the summer. Other little ones include Josh and Anna Duggar's sixth child Maryella Hope, Joseph and Kendra Duggar's daughter Addison Renee, and Josiah and Lauren Duggar's first baby Bella Milagro. Fan shouldn't forget cousin Amy Duggar King, who brought her and husband Dillon King's first child Daxton Ryan into the world.
Who will be the next Duggar duo to get baby fever? It could easily be any of the previously mentioned couples. It seems like most of the Duggar kids are following in Jim Bob and Michelle's footsteps, and are quickly on their way to their own baker's dozen of offspring. There's also 18-year-old Justin Duggar, who recently got engaged to 19-year-old Claire Spivey. Most likely, after they tie the knot, they'll start having babies right away. Congratulations to Jinger from Counting On.
Next: The Duggar Home Reportedly Raided by Homeland Security, But they Deny It
Source: People, Jinger Vuolo/Instagram