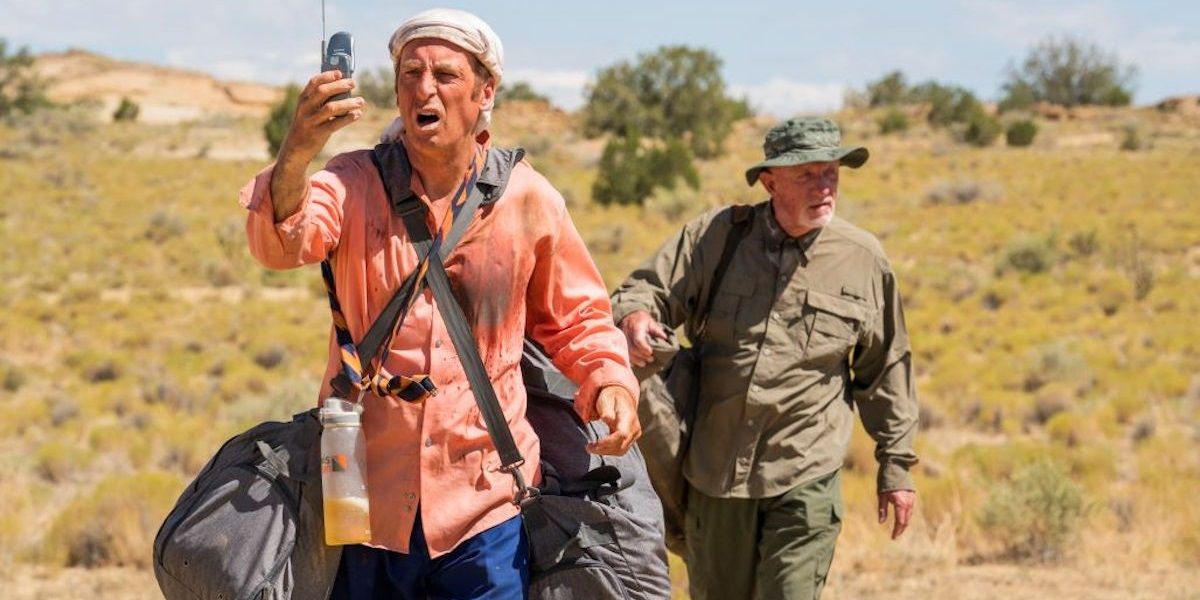 A deleted scene from Better Call Saul season 5 highlights a new interaction between Jimmy McGill and Mike Ehrmantraut. Premiering earlier this year, AMC's acclaimed drama enjoyed arguably its finest season yet. There was much to enjoy in Better Call Saul season 5, but most viewers would agree the highlight was the "Bagman" episode, which was directed by Vince Gilligan. Notable for its suspenseful set pieces and captivating performances by Bob Odenkirk and Jonathan Banks, "Bagman" is widely considered to be one of the best Better Call Saul episodes to date. It was nominated for Outstanding Writing in a Drama Series at the Primetime Emmys.
One of the reasons why "Bagman" worked so well was it served as a showcase for Better Call Saul stars Odenkirk and Banks, who have developed a nice rapport with each other since their days on Breaking Bad. For longtime viewers, it was a treat to watch the two play off each other as their characters tried to find a way out of a harrowing situation. There were plenty of standout moments throughout the episode, but they didn't all make the cut. Fortunately, fans now have an opportunity to see one such scene that was left out.
Related: Every Breaking Bad Character Who Can Return in Better Call Saul Season 6
To promote Better Call Saul season 5's Blu-ray release today, November 24, Sony shared an exclusive deleted scene clip with Screen Rant. Taken from "Bagman," the short sequence shows Mike advise Jimmy to not consume all of his water so quickly. Take a look at the video in the space below:
The scene highlights the differences between Jimmy and Mike; while the latter takes a measured sip from his canteen, knowing full well the arduous journey they have ahead, the former is ready to drink more than he should. Mike has clearly been in similar situations and knows the importance of rationing a water supply, while Jimmy is in over his head and is convinced things aren't as bad as they seem. Those who have seen the episode know Jimmy doesn't heed Mike's words of wisdom, since he eventually does run out of water and is forced to drink his own urine to stave off dehydration. The bit of foreshadowing in the deleted scene is a nice touch, but it's easy to see why it was ultimately left on the cutting room floor. It doesn't contain the most crucial bits of information, and like many deleted scenes, would only run the risk of slowing down the episode's pacing.
Considering "Bagman's" reception, it's easy to say Gilligan and company made the right call leaving this episode out. Still, it's nice it was included as a bonus for fans on the Blu-ray release, especially considering how beloved the dynamic duo of Jimmy and Mike are. It will be interesting to see if their dynamic is the focus of any episodes in the upcoming Better Call Saul season 6, which is set to be the show's last. There's a lot Better Call Saul has left to wrap up before it signs off the air, but viewers wouldn't argue with more of Mike and Jimmy playing off each other.
More: When Better Call Saul's Gene Scenes Are Set In the Breaking Bad Timeline
Better Call Saul Season Five is now available on Blu-ray and DVD courtesy of Sony Pictures Home Entertainment.