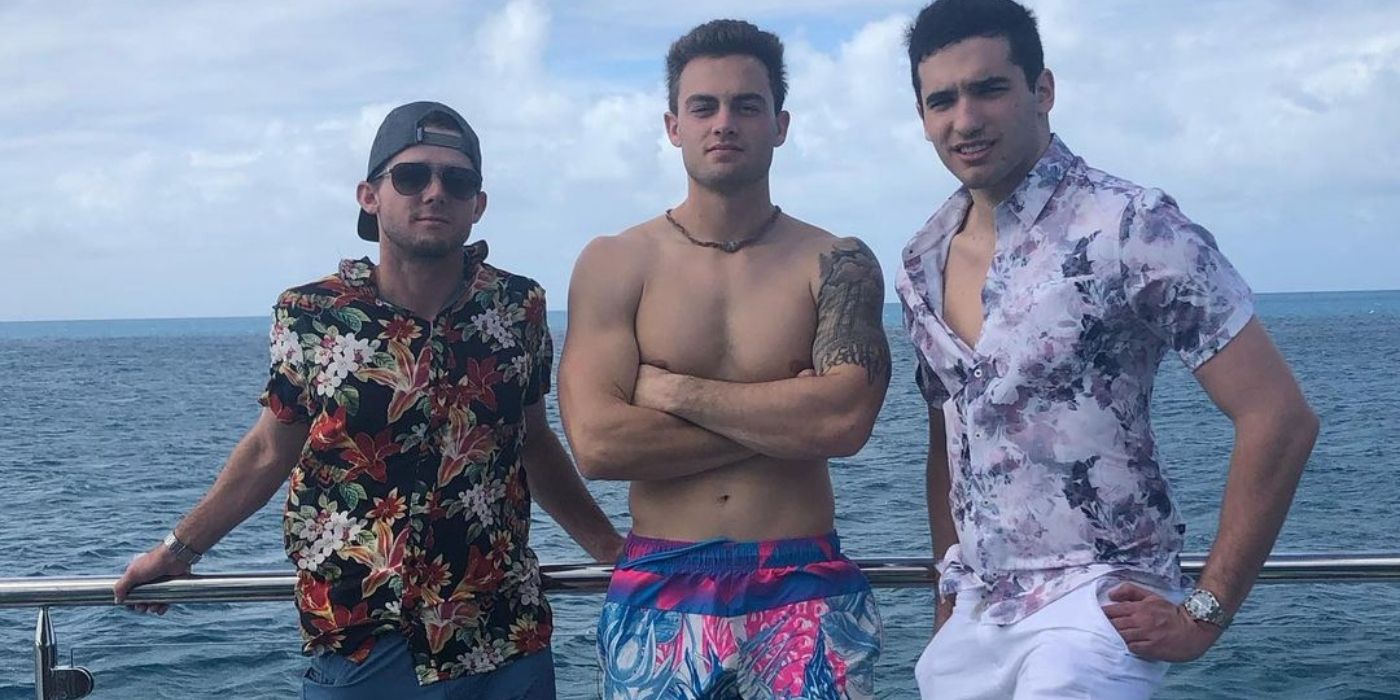 Dax and Max from Below Deck are 20-something years old, and they are charter guests on an expensive yacht. The luxury charter was paid for by their parents.
Last week's all-new episode followed Max and Dax's excellent adventure. The two young men boarded like a bunch of kids from college and acted like they ran a frat house. The new guests did little to impress the crew or Bravo viewers, as most people found their antics sickening. The whole idea of being on a superyacht and only wanting to play drinking games (not to mention the need for Jell-o shots) was very declassé. While the guests were posing for Instagram, Below Deck fans found out that their parents had paid for time on the yacht, and the only question was why?
Related: Would A Below Deck & Below Deck Mediterranean Crossover Be Doable?
Needless to say, viewers were outraged at the total waste of money for a trip that most can only dream of. For a lot of fans of the show, the straw that broke the camel's back was when they requested a nude sushi model to eat off of. Many viewers found the whole meal degrading. Plus, when Chef Rachel tried to explain what she had made, they talked over her. So, who are these boys and why do they feel that they can act this way? See a shot of Max Gilliam below:
Dax Nittolo has around 900 followers on his Instagram and his profile picture looks to be an old one of him and his sibling. The account shows the Below Deck guest's travel and adventures in a tasteful way. This rich kid gets around. According to his social media, he has been to Paris, Italy, and (of course) the Caribbean. His co-guest Max Gilliam has almost 2,000 Instagram followers and looks as if he plays football at the University of Nevada Las Vegas. He may be their quarterback. His football jersey seems to feature the number six. It looks like he played for the University of California Berkeley before. Football and his girlfriend appear to be the focal points of his life. Looking at these young men, they seem normal, although they were possibly born with silver spoons.
Some fans felt that the Below Deck charter guests had been thrown under the bus by being told to act a certain way by producers. Fans also did not like how the entire crew kept snickering at their age, as this implied that they were spoiled. Hopefully, these guests learned at least one valuable lesson, which is to avoid naked sushi antics.
Next: Below Deck: Everything To Know About Australian Ashling, New Steward
Below Deck airs Monday at 9 pm EST on Bravo.
Source: Dax Nittolo/Instagram, Max Gilliam/Instagram