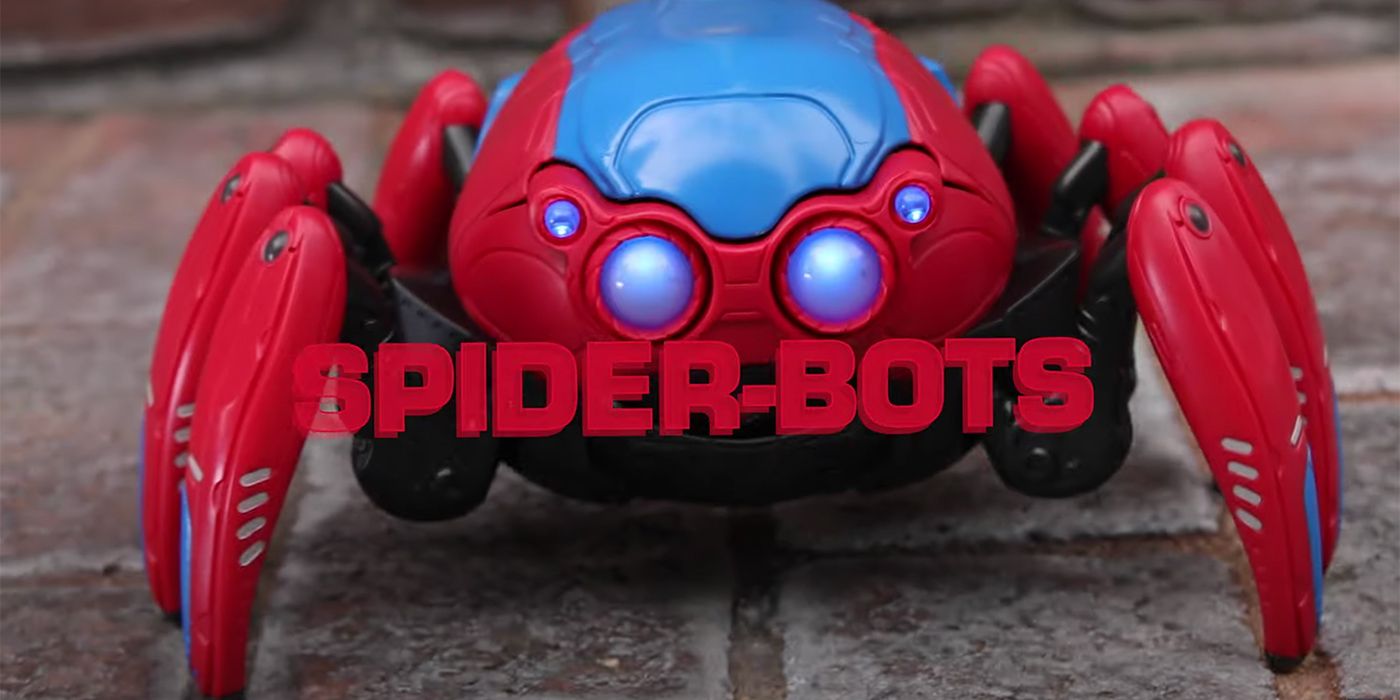 A new Spider-Bot toy from Disneyland's new Avengers Campus will be sold in the park's Downtown District from December 4th. The debut of Avengers Campus has been delayed due to COVID-19, but with an increase in the shopping and dining locations now available as part of Disneyland's phased re-opening, some of its merchandise will see an early release.
2020 has been a rough year for the family entertainment giant. At various points, the pandemic has significantly impacted amusement parks, cruises, and movie theaters – in other words, all of Disney's major sources of income. While Florida's Disney World has been operating at limited capacity since July, California's more stringent shutdown has limited Disneyland to a partial re-opening of its Downtown District, with the park itself (and all of its rides) remaining closed. This has thrown off plans to unveil Avengers Campus, a new Marvel-themed section of the park containing two new rides, interactive experiences, and an Ant-Man-themed restaurant that, of course, plays with the food's size. Originally scheduled to open in July of this year, the shutdown's disrupting construction has delayed Avengers Campus indefinitely. Still, Disney has made it clear that work on the new section is well underway.
Related: Iron Man: The MCU Doesn't Understand Tony Stark's Legacy At All
One way to keep building anticipation for Avengers Campus is to release some of its exclusive merchandise early, and according to the Disney Parks Blog, that's just what they're doing. Starting from December 4, the World of Disney store and Disneyland Resort Backlot Premiere Shop will sell Spider-Bots, a remote-controlled toy inspired by the new ride "WEB SLINGERS: A Spider-Man Adventure." As shown in a promotional video, Spider-Bots can crawl forwards and backward, spin a full 360 degrees, and battle other Spider-Bots. Their eyes produce a "blast attack" that threatens to pop off the opponent's shield, but a defensive crouch can deflect the laser and keep the battle alive.
The new toy is the first from the Avengers Campus store WEB Suppliers, selling products from a fictional Tony Stark-founded company called World Engineering Brigade. Annual Passholders have the opportunity to reserve a spot for the limited presale event from November 30 to December 3, during which other exclusive WEB merch might be made available for early purchase. When "WEB SLINGERS: A Spider-Man Adventure" finally opens, park guests will be able to battle their Spider-Bots in a shooter-style ride with interactive screens.
While some readers might be adding a new stop to their Holiday shopping trip, this news is frustratingly enticing for Marvel fans outside California. On the plus side, the Spider-Bot's early release suggests confidence in the way Avengers Campus is progressing, as well as a more general faith in Disneyland's ability to end the longest closure in its 65-year history. Hopefully, the next time families can make their pilgrimages to the Happiest Place on Earth, and they'll be able to sling webs with Spidey while munching on abnormally sized foods.
Next: Spider-Man 3 Can Fix The Amazing Spider-Man 2's Dumbest Part
Source: Disney Parks Blog