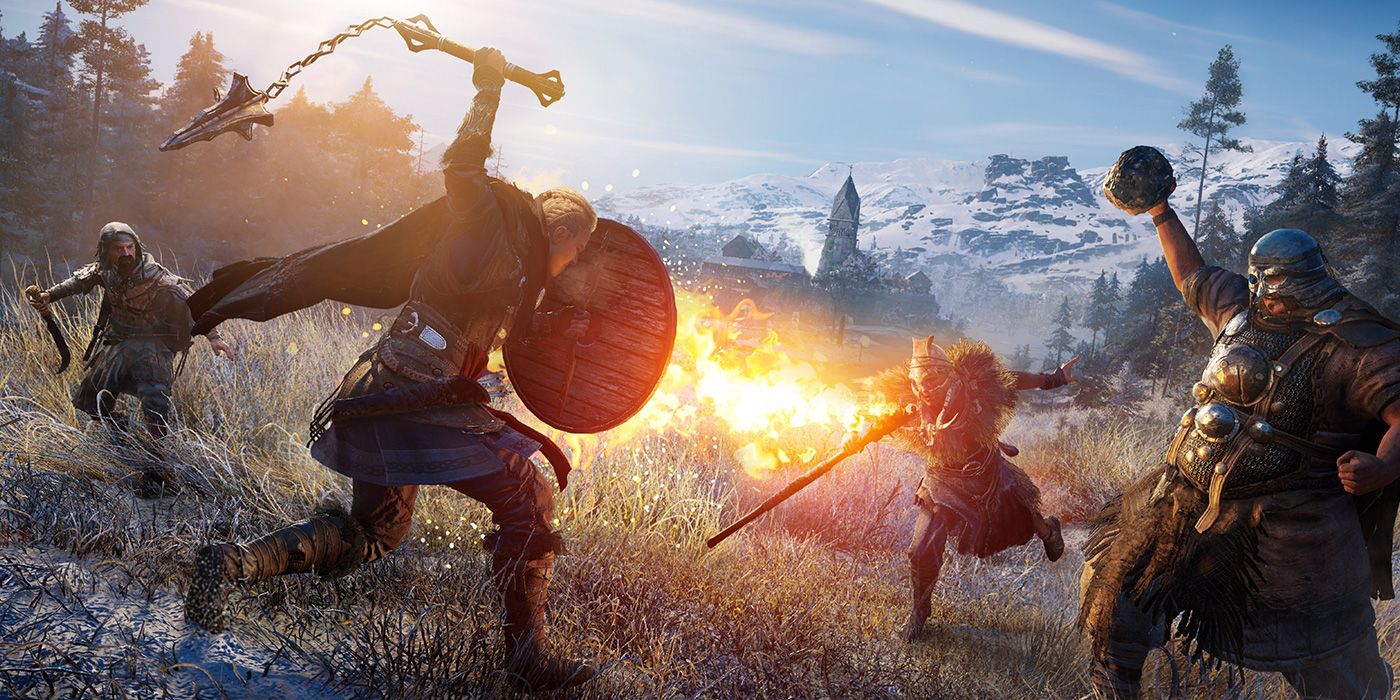 Ubisoft has announced the latest patch for Assassin's Creed Valhalla, which adds a new 60 FPS feature for the PlayStation 5 and Xbox Series X/S. The latest installment in the long-running Assassin's Creed franchise, which was released November 10, was hailed by Ubisoft as the biggest launch in the franchise's history, selling more units than any other entry during its first week of release. Unfortunately, in spite of its success, the game is far from perfect as players encountered quite a number of issues with the game since its release.
One of the most glaring bugs that players have experienced involves one of the game's main story quests. If encountered, the bug completely prevents players from progressing further into the game. The bug apparently stems from the game's 1.02 update so the only way to avoid it is to reinstall the game and play it offline to prevent it from updating. Other players have also encountered a similar but less progress-breaking bug wherein certain world quests could not be completed. Thankfully, Ubisoft has been actively trying to address the game's myriad of issues with regular patches.
Related: Assassin's Creed Valhalla PS5 Review: Coming Out Of The Dark Ages
The latest patch that's set to release for AC Valhalla, Title Update 1.04, not only addresses even more of the game's issues but also gives players access to the new graphics/performance mode feature for the PS5 and Xbox Series X/S. Ubisoft detailed the major patch on its official forums, which states that the new feature will allow players on the new consoles to choose either the Performance or Quality mode. The former will adjust the game's resolution and graphical settings to maintain a 60 FPS framerate while the latter will maximize the resolution and graphics but keep a minimum framerate of 30 FPS. Ubisoft notes that the Xbox Series X and the PS5 have been running in Performance by default since launch while the Xbox Series S was in Quality mode.
The new graphics/performance feature gives players on the new consoles a similar but simplified version of the graphical options that PC players have access to not only in AC Valhalla but also in other video games to achieve the graphics and performance quality they desire. Apart from the new feature, Title Update 1.04 also fixes quite a large number of issues in the game, such as the aforementioned world quest bugs, along with some improvements to some of its elements, including additions and adjustments to the game's UI, gameplay, and general performance.
While the launch of Assassin's Creed: Valhalla has been quite rocky with all of its issues, the rest of the game is pretty impressive, with even iconic film director John Carpenter coming out as a fan of the franchise and expressing his adoration for the latest entry.
Next: Assassin's Creed Valhalla's Orlog Dice Game Gets Physical Version Next Year
Source: Ubisoft