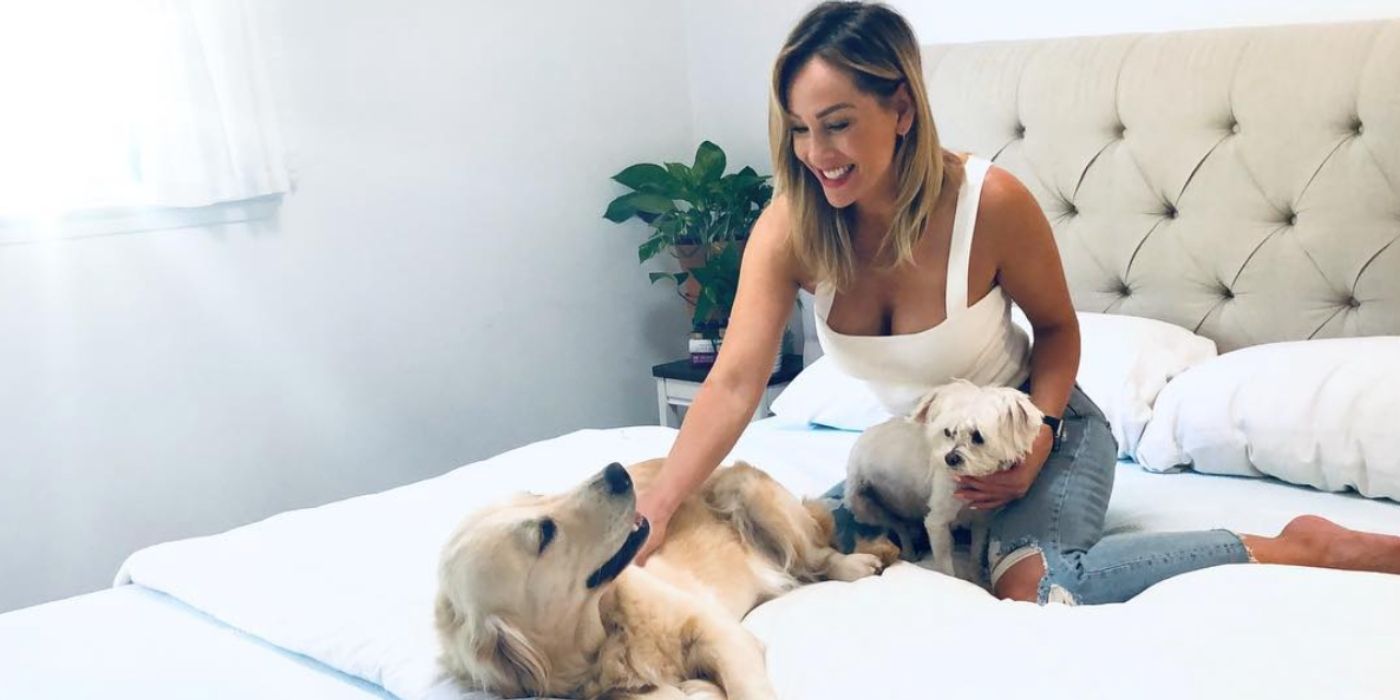 When the coronavirus hit, no one ever thought it would deliver anything worthy of a "thank you." But because of the pandemic, the producers of The Bachelorette allowed Clare Crawley to bring her dogs along for the entirety of filming. We've seen some Bachelors and Bachelorettes bring their precious pooches along for a date here or there, but never have we been gifted with the permanent presence of dogs for the whole season. Thank you, coronavirus? Thanks or no thanks, the truth is Clare's premiere was definitely made more enjoyable by the inclusion of a certain couple of cuties – the real stars of the show and OG loves of Clare's life, her glorious pups, Honey and Elbie!
Clare was first announced as the new Bachelorette all the way back in March. But before she could start filming, disaster struck. COVID-19 spread across the globe, forcing mass shutdowns in entertainment, including a stop in production on Clare's season of The Bachelorette. While Clare had to wait a few unfortunate months for her journey to begin, there was one benefit to the delayed production. Since this season was filmed in one location at the La Quinta Resort in Palm Springs, California, Clare was able to pack up her two pups and cart them down to the set of the show. Both Clare and fans are thankful for this interesting change in format, if only because they get some much-needed happiness from seeing Clare's dogs onscreen.
Related: Bachelorette: Who Calls Clare the Oldest Bachelorette This Season
Honey is a golden retriever who literally stole the show when she made an unexpected appearance at the first cocktail party. The guys and Clare were hanging out outside when, out of nowhere, this beautiful golden sweetie pie came barreling into the mix with her tongue flopping about. It took all of six seconds for Honey to get on the ground and roll over for a tummy scratch. She was in heaven, and so were the fans. All that was missing was an intro package for these two cuties. Check out Honey's grand entrance to the show below:
Before making their Bachelorette debut, Honey & Elbie spent their days loving their mom at home in Sacramento, CA. Of course, they were also the stars of Clare's Instagram. Elbie, or as Clare commonly refers to him, Elbs, has been with Clare the longest. He goes with her everywhere and even once got all dolled up in a bowtie for a trip to Home Depot. Honey and Elbie are Clare's sidekicks and are really living the life. They go on hikes, take breaks to stop and smell the flowers, take naps outside, cuddle in bed, get filthy frolicking at the beach, go on car rides, and generally live the best life a dog could ask for. Now, they're also TV stars who have stolen Bachelor Nation's heart. Take a look at sweet Elbie in the picture below:
These pups are pretty darn cute. If only they could be trained to pin roses on the guys' lapels! Training aside, we can only hope this adorable duo will get plenty of screen time on this season of The Bachelorette, especially since it's rumored to be a short one, at least as far as Clare's concerned. Rumor has it Clare decides Dale is "the one" and calls the show off early, leading producers to bring in Tayshia Adams in to replace her. We will all have to wait and see. But if one thing is more than clear, the Bachelor and Bachelorette should always bring their dogs. You hear that, Bachelor Nation? We want more dogs!
Next: The Bachelorette: What We Know About Taysha Adams' Ex-Husband Josh Bourelle
The Bachelorette airs Tuesdays on ABC at 8 pm ET.
Source: Clare Crawley